Did you catch the Maryland Day post yesterday? My friend Matt commented to me that he learned something new, he didn't know that the original Hairspray was filmed in Maryland. He asked where my love was for Step Up 2: The Streets which was also filmed in Maryland….but I had no idea! The conversation got me thinking, what other movies were filmed in Maryland? After doing some research I was shocked, where have I been?!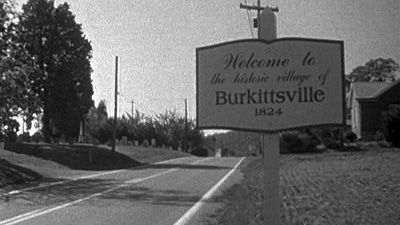 The Blair Witch Project
When TBWP came out I was still living in Delaware and didn't get into scary movies until college so I had no clue that it was filmed in Maryland. Most of the movie took place in Western Maryland in a town called Burkittsville. To be honest, I had never heard of Burkittsville but then again that is probably the point of filming a scary movie there.
He's Just Not That Into You
Watching this movie it's obvious that the city is Baltimore, but I questioned why? That's when I found this article which made me fall in love with this city all over again. Every movie based in a city is either LA or NYC. The directors of He's Just Not That Into You wanted a city that felt like home. Director Ken Kawpis said it best, "You feel like it's a place, a very livable place, a very comfortable city, a city that's not characterized by extremes." I wish I was in the city in 2007 to see big name actors like Jennifer Aniston, Drew Barrymore and Ben Affleck walking the streets of Charm City.
Runaway Bride
This is hands down one of my favorite movies. It doesn't hurt that it was filmed in Berlin, MD a place close to my hometown in DE where I spent many summer days. Berlin is the cutest small town I've ever seen and home to the most incredible old homes. Two of my friends growing up were living in Berlin when Julia Roberts and Richard Gere took over the town to film this amazing movie. They met all of the cast and were able to watch the filming take place. Today, I am a huge fan of Sheila on the show Shameless, so I would have also loved to meet Joan Cusack. The bridal store that Julia visits to buy her "bell shaped" wedding dress is actually one of my favorite stores, Victorian Charm!
Sleepless in Seattle
I might lose some girlfriends over this but I've NEVER seen Sleepless in Seattle. Imagine my shock when I read that scenes from the movie were filmed in Baltimore…I mean that's confusing when the title is about being sleepless in SEATTLE. But now I have to watch it!
The Social Network
This was another movie that made me question why it was on a list of Maryland movies. I mean wasn't the film shot at Harvard? Well it was SUPPOSED to be Harvard but if you look close enough you can tell that it's Johns Hopkins University. Can you imagine going to classes and walking past Justin Timberlake or Jesse Eisenberg while they filmed a scene?
Failure to Launch
Although this wasn't one of my favorite movies, SJP and Matthew McConaughey are amazing. Also- something to note is that not only were scenes filmed in Maryland but they were also filmed in my homestate of Delaware! I am so lucky to have lived near and on the water for my entire life. The backdrops of some of the greatest movies were the places I visited every single day.
Step Up
Step Up, the movie where Channing Tatum and Jenna Dewan-Tatum met and fell in love was shot almost entirely in Maryland with the majority of the film shot in Baltimore. I haven't seen Step Up since it came out in 2006 but I need to watch it immediately. The Maryland School of the Arts which Channing's character was caught vandalizing is actually the Booker T Washington Middle School and the rehearsal room is really the City Pier Building in Fells Point. The City Pier building is currently sitting empty but is in discussion to be sold for a boutique hotel.
For Richer of Poorer
Kristie Alley and Tim Allen were hilarious in this 1997 film about two New Yorkers trying to make it in Amish Country. Actually the film wasn't shot in Pennsylvania but in Westminster, Maryland. Scenes in the movie that were supposed to look like New York City were actually shot in the Mt.Vernon District of Baltimore and the Belvedere Hotel ballroom was featured as well.
What other movies were filmed in Maryland??
source / source / source / source / source / source / source / source / source / source / source / source / source / source / source /