Hi. My name is Megan and I am addicted to my iPhone. Not a shocker, I know. I have been making a serious effort to detach myself from it lately and I am happy to say that it's starting to work!  Last week Steve and I walked to Federal Hill to check out the sunset and instead of whipping out my phone to capture it and upload yet another sunset pic to Insta… I just looked at it with my eyes. Imagine that- just looking and absorbing and making a memory. He was very happy to say the least.
With that being said- the apps on my phone are ones I use and love. I have a handful of categories that I swear by: Photography, Social, Travel, News, Games. Here are some of my favorites!
Photography:
A Beautiful Mess-The ladies at A Beautiful Mess are CRUSHING it lately. I downloaded the ABM app when it came out over the winter and LOVE it. There are so many cool features that you can do and my photos look great whether I use a simple filter or add text.

Party Party- Elsie and Emma's newest app was released this week and I am not ashamed to say that I bought it the first day it hit the app store! I've only used it for a few things so far but the photo strip collage and photobooth features are so fun!
Travel:
FlightTrack- I use this allll the time. Being that my family is so spread out we like to see each other as often as we can and I'm usually the chauffer from the airport so I love that I can see if a flight has landed or has been delayed from my phone. I also used it when my parents flew to London and could see where the plane was at all times.
Hipmunk- Steve and I haven't actually used this app yet but we like to check it out and see what hotel fares are at any given time. The app is designed for users to find last minute deals on hotels the day that they are planning to stay.
Roadtrippers- I LOVE THIS! We are planning a roadtrip for the fall and this makes it sooooo simple. The app maps out my entire trip and suggests places to stop along the way. I can easily spend hours on the webpage just browsing all the fun places there are to visit.
News:
ABC News- I used to have CNN and while it was a solid news source, it didn't give me a wide variety of news stories. I love this app because I can select categories whether I want to know the serious facts about the Malaysia flight or if I want something a little lighter and just want to know about Ryan Gosling becoming a father. I can get both with just one click.
ESPN- I live a block away from Camden Yards but I obviously can't make it to every Orioles game. That's why I love the ESPN app because I get the play by play of every game even when I forget we have one!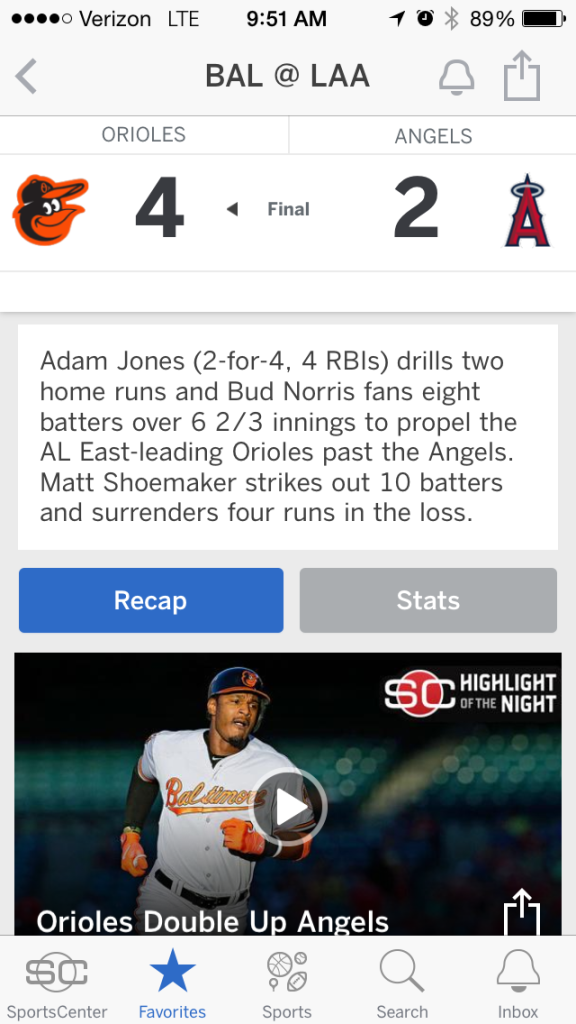 Games:
Dots- This is so addicting. End of story.