Some of my best childhood memories are from summers growing up. My Dad is a college professor so he was off from work when I had off from school. I can look back now and appreciate not having to have a babysitter or stay with grandparents and have that time with my Dad. He made sure my brother and I enjoyed our time off with trips to the local greenhouse, educational day trips, and trips to the beach.
There was one thing that every trip and outing had in common…Ice cream! This family loooooves ice cream. I used to eat a bowl every night before bed when I was younger- thank goodness for a fast metabolism because if I did that now I'd be 300 lbs.
One of my favorite memories was sitting in the yard with my Mom, Dad, and brother making homemade ice cream. There is nothing better than homemade chocolate or banana ice cream. It's been at least 8 years since we've made some and this past weekend we set to work making a batch of chocolate which tastes very similar to a frosty (YUM!)
Let me preface this by saying my parents have a very old ice cream maker. There are some newer versions HERE that you can check out. The steps might be a little bit different depending on what type of equipment you use but the overall idea is the same.
I love this photo because it shows you how vintage the equipment is and how loved this recipe is. My Dad told me that his mom and his grandmother used to make it and we discussed how different the process was back then. Imagine hand cranking for an hour to make homemade ice cream! JEEEEZ
The two pieces of equipment that we used were a blender and the ice cream maker itself. In place of a blender you can also use a mixer.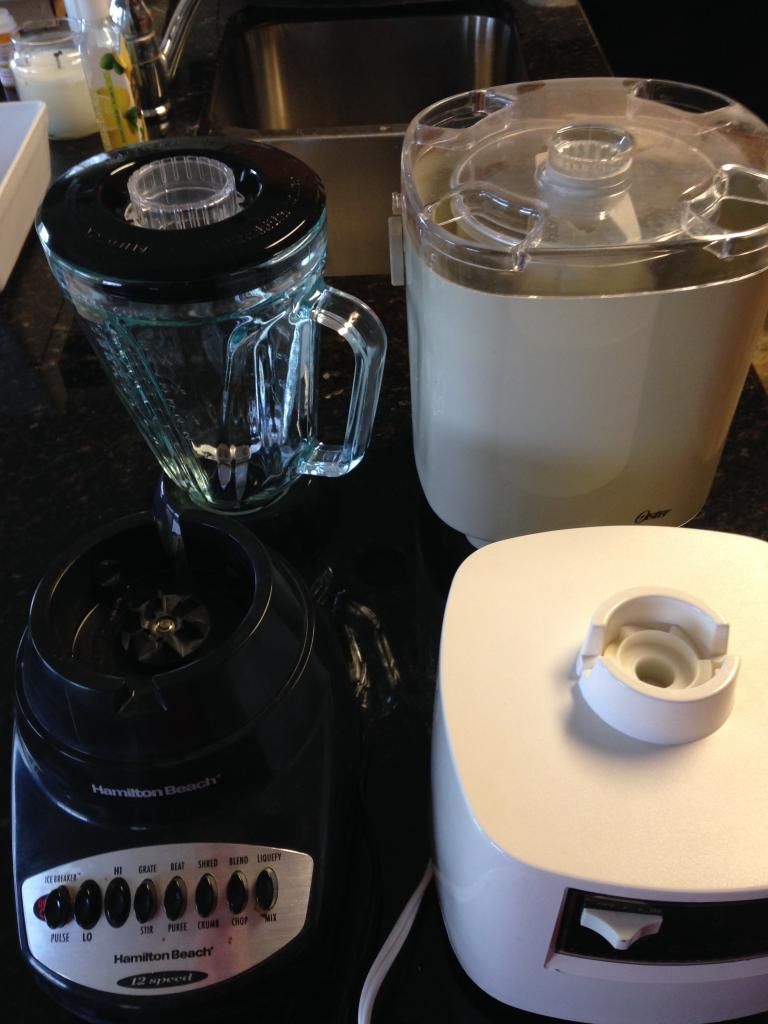 Ingredients:
2 large eggs
¾ cup of sugar
1 can of evaporated milk
¼ teaspoon of vanilla
3 cups of milk**
5 tablespoons of cocoa
Finely crushed ice
1 ½ cups of coarse salt
Steps:
Add 2 eggs to blender- this part is tricky for a few reasons. When my Dad was growing up he lived on a farm. They had access to fresh and organic eggs that were safe to eat raw. Unfortunately we do not have access to fresh eggs and therefore had to make a decision. Do you buy eggs at the grocery store and chance salmonella by eating them raw? We opted to use EggBeaters this time and it tasted perfectly fine while still being safe to eat. (I did look into buying organic eggs but again, there is no guarantee that they are safe to eat raw). The choice is up to you but if you choose to use Eggbeaters the conversion is on the side for how much to use in place of 2 eggs
2.     Add ¾ cup of sugar, 1 can of evaporated milk, and ¼ teaspoon of vanilla to blender
3.     Blend and place in the refrigerator to chill for at least 1 hour
4.     While the blender mixture is chilling, warm 1 cup of milk in a pan on the stove
5.     Add 3 tablespoons of cocoa and continue adding until you have the amount of cocoa you prefer (We ended up using 5 tablespoons and it was nearly perfect, maybe 6 would have been the magic number).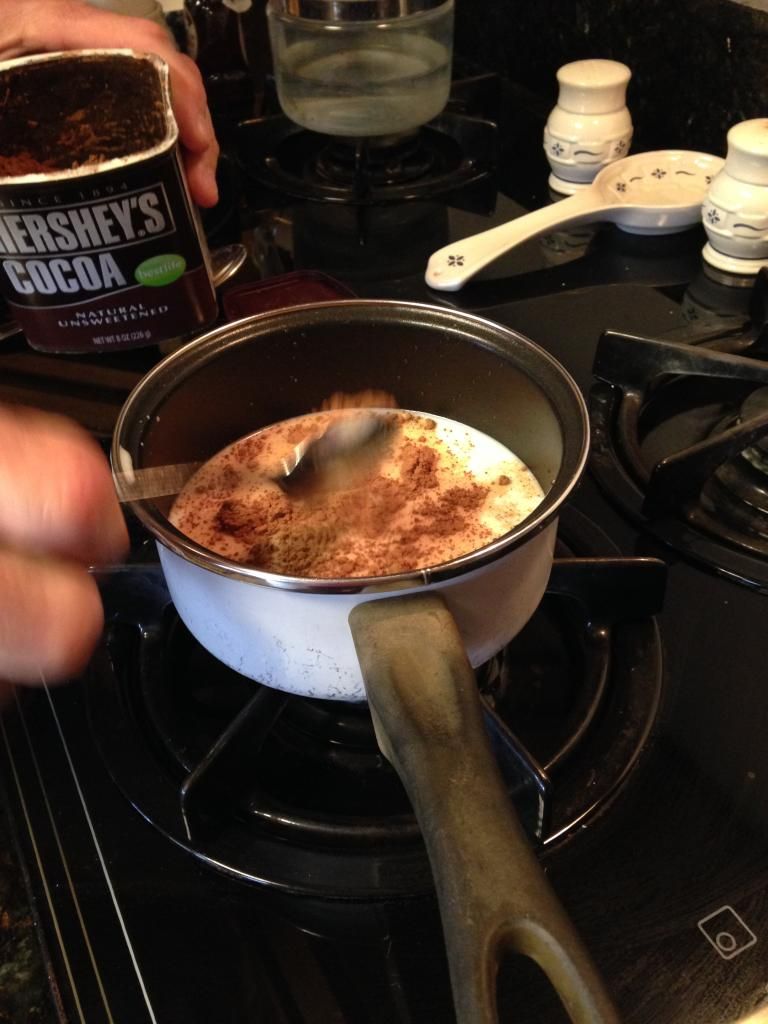 6.     Once the chocolate milk has been mixed thoroughly allow it to cool (placing in the refrigerator will speed up the process)
7.     After 1 hour pour blender mixture and chocolate milk into the ice cream can. Use a small portion of milk and swirl it around the blender to make sure all liquid is in the can.
8.     **Add milk until there is 1 inch of space at the top of the can
9.     Turn on the ice cream machine and being to add small pieces of ice to the sides being careful to not accidently drop any into the ice cream (small hole on top of machine)
10. Also gradually begin adding up to 1 ½ cups of coarse salt while adding the ice
11. The mixture looks like chocolate milk to begin with but will change while the ice and salt start doing their job
12. You'll know it's done when it looks like a milkshake!
13. Be sure to wipe down the lid of the can before opening to avoid getting salt in the ice cream!
14. ENJOY YOUR HOMEMADE CHOCOLATE ICE CREAM.