There is nothing better than a box arriving at your doorstep full of all the things you love the most. Am I right? Well this happened to me Thursday after getting home from a REALLLLY good day I heard the doorbell ring and there it was…Baltimore in a Box! My roommates can vouch for the fact that I grabbed the box and squealed with delight before running upstairs with my new goodies.
But let me back up for a second- do you know what a box subscription is? There are a ton of companies that offer them. You sign up and each month a box full of whatever you chose just appears at your doorstep! I have written about Ipsy and Birchbox but I've also had the pleasure of getting sucked into a Julep Maven box as well. So when Ross from Baltimore in a Box sent his newest business venture to me I knew I had to share it with all of my friends!
Do you want to know what was inside?
Some of the best goodies I could have imagined!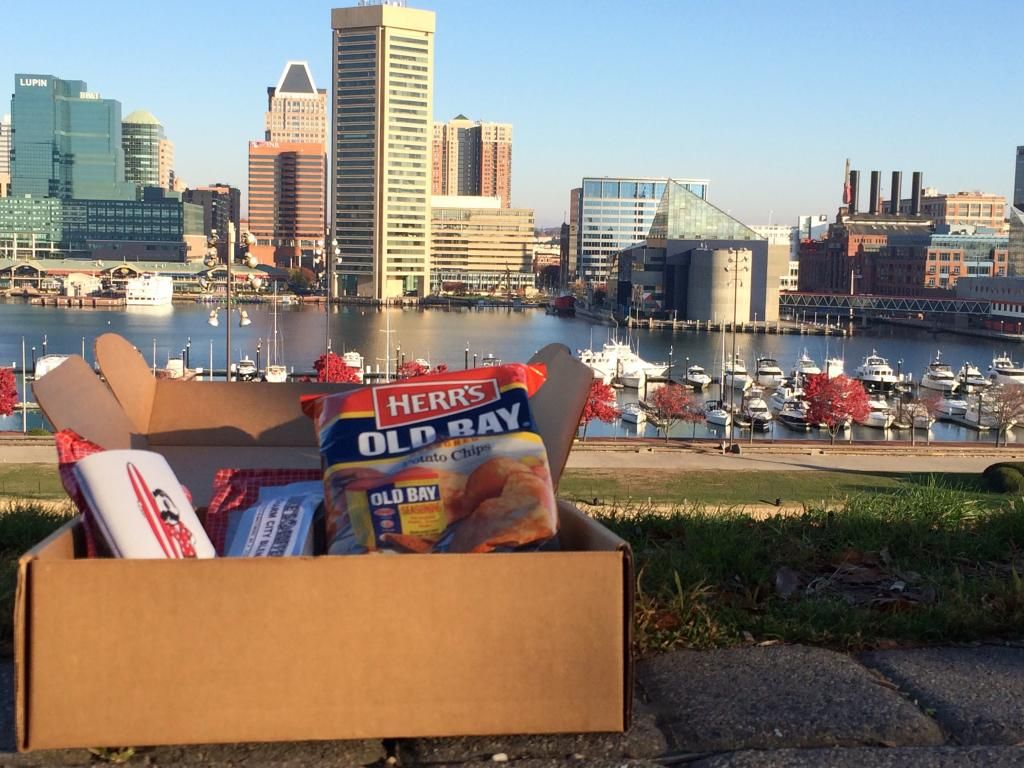 The assortment of edible treats were probably my favorite- I am a girl who loves food, especially Baltimore food!
Old Bay chips- Nothing screams Baltimore like old bay! These chips are some of my favorites which I had never had until moving to the city
Otterbein Cookies- I live in the Otterbein neighborhood and had never heard of Otterbein cookies but let me tell you, I will be buying bags and bags of these as soon as possible. The sugar cookies are thin and light but taste perfectly  buttery.
Berger Cookies- I love Berger Cookies. End of story.
Zeke's Coffee- I just had Zeke's for the first time a few weekends ago and haven't been able to find it yet. Getting a pack in my box will hold me over until I can buy it in bulk.
Beyond that there was also a Natty Boh beer koozie (which you can never have enough of), two bumper stickers (both are perfection and I've been trying to find the City Living one for a while!) and a copy of City Paper which I have reach online but never in print.
But wait, did you notice the hot pink pens? Big Boyz Bail Bonds is a huge name in Baltimore and I can't go out to eat without being handed the hot pink pen while signing the check. I wondered why their pens are ALL OVER BALTIMORE and found out why as soon as I visited their website. You can order them for free!
I loved getting my Baltimore in a Box and think it would be a great gift idea for everyone on your list. It's perfect to send to someone who lives in Baltimore, who has moved away from Baltimore, gifts for people visiting from out of town or for YOURSELF! Wanna know the best part? The product is always changing! I might order one in a few months from now and get completely different products.
Thanks Baltimore in a Box for my new favorite box!