They say you should love what you do and you'll never work a day in your life. We all strive for that, but do we really love what we do? Sure it's easier to go to a job every day that you like, but are you passionate about it and is that passion infectious to those around you? Spend five minutes talking to Jinji about her chocolate shop and you'll get it.
We had our second Meet the Maker event at Pure Chocolate by Jinji last week. Shopping locally is so important to me and this series really helps educated our Baltimore Yelpers on the businesses around them. We should be buying locally made products that can't be purchased anywhere but Baltimore and are made with love by people who love this city as well.
I was obviously excited when Elsa told me that our MTM for December would be at a chocolate shop, but then I felt guilty. I've been eating super healthy for a few reasons but mainly to get a better handle on my health. I'm lactose intolerant but over the last few months I've been struggling with something in my diet and it is still unknown. I was feeling awful so I decided to eat super clean and cut out all dairy (even though I have the pills that allow me to eat it). I have never felt as good as I have felt this week. I don't feel bloated, my stomach doesn't hurt all the time, I don't feel sluggish and I feel like I have a bit of pep in my step. Annnnd a chocolate event was sure to derail all of that hard work because who can resist?
If you take a look at Jinji's website you'll see that I had nothing to worry about. All of her chocolate is dairy-free and free of all refined sugars. Every ingredient is organic and has a purpose in the end result. In talking to Jinji it was quickly apparent that this is her passion, her drive, her one true love and something that she works very very hard to maintain. All of her chocolates are hand-made by herself, her father who also doubles as a business partner, and her VERY small staff. When asked what her long-term goal was she had one simple answer that no one saw coming, "I want to taste the world, chocolate first." Her long-term goal wasn't to be in every Whole Foods in the country or even start mass production on all of her products. It really is about the chocolate for Jinji. It's about something so simple that brings such great joy to people across the world.
I can now say that I have met someone so incredibly passionate about what they do for a living that it is indeed infectious. If you don't believe me, taste her chocolate, it tastes like pure love.
And now for the CHOCOLATE!

Step #1 is to fill the mold with chocolate!

Step #2 is to scrape all of the excess back into the bowl….but then she dumps ALL of the chocolate back into the bowl. I was confused. Some of the chocolate has already hardened in each of the molds creating a shell!

Step #3 is to fill each mold with a chai filling (best thing I've ever tasted! You could taste each spice individually!)

Step #4 is to take the remaining chocolate and fill each mold!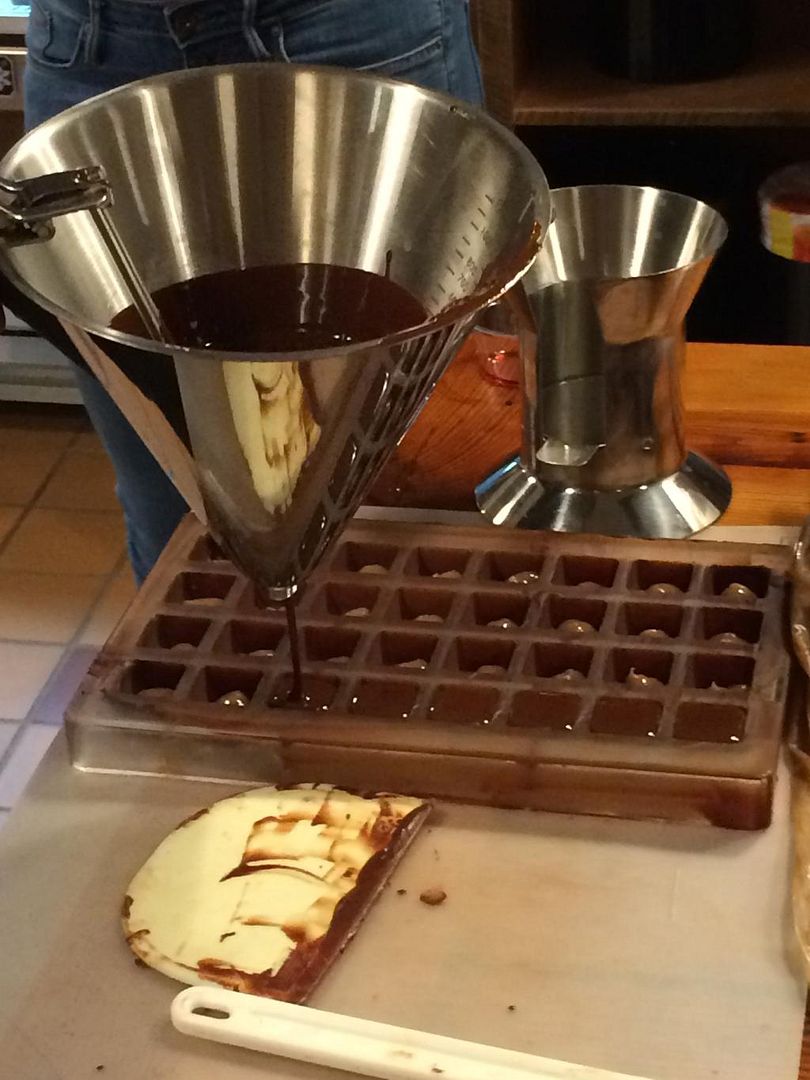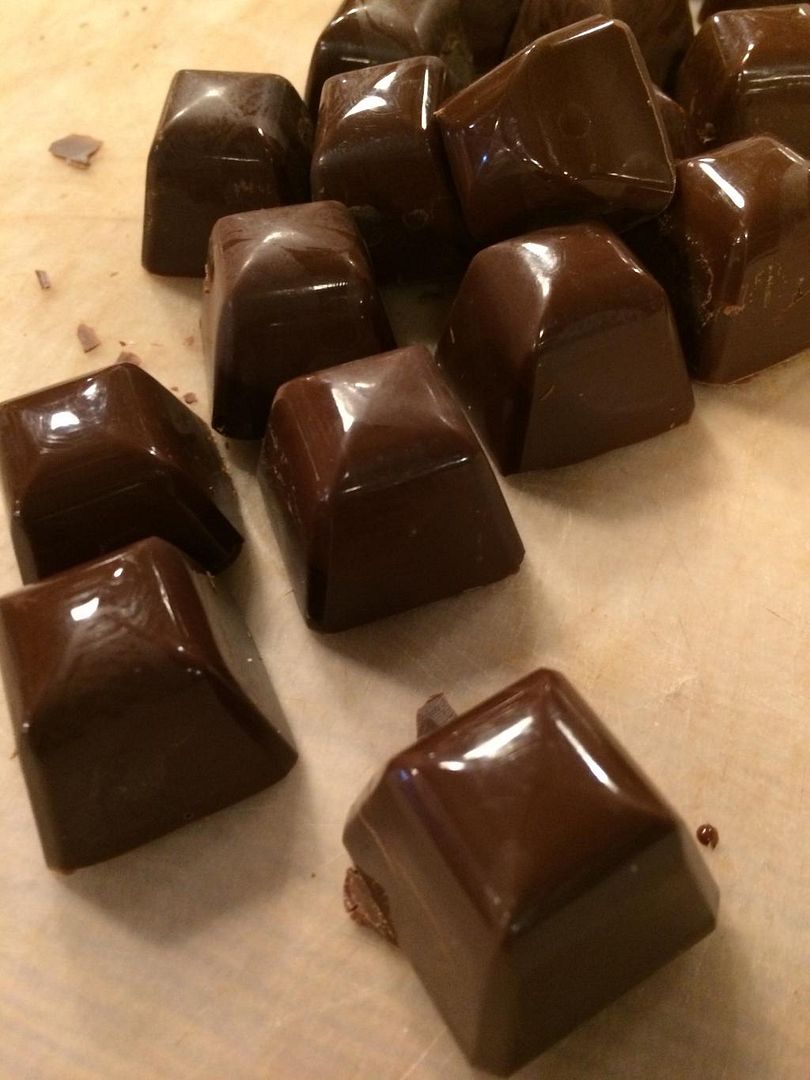 Step #5- EAT THEM!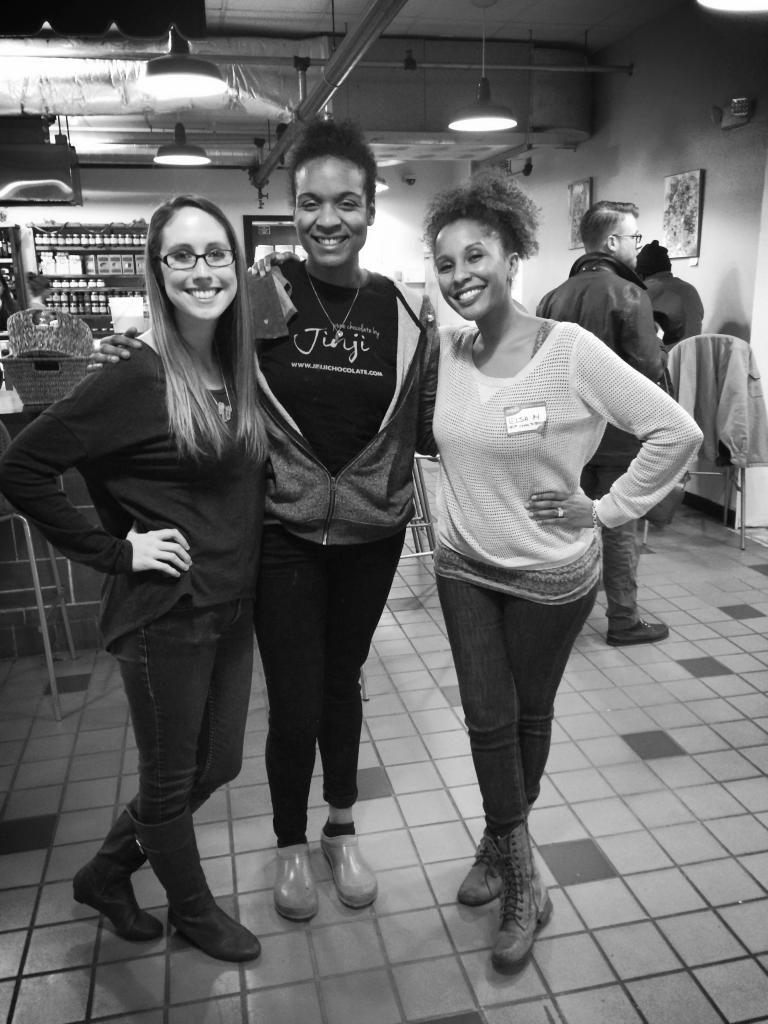 Thank you Jinji!

Elsa and I left with goodie bags filled with some of the best chocolate I've ever tasted!
Unfortunately, you can't buy her chocolate online but HERE is a list of all the locations that sell it!