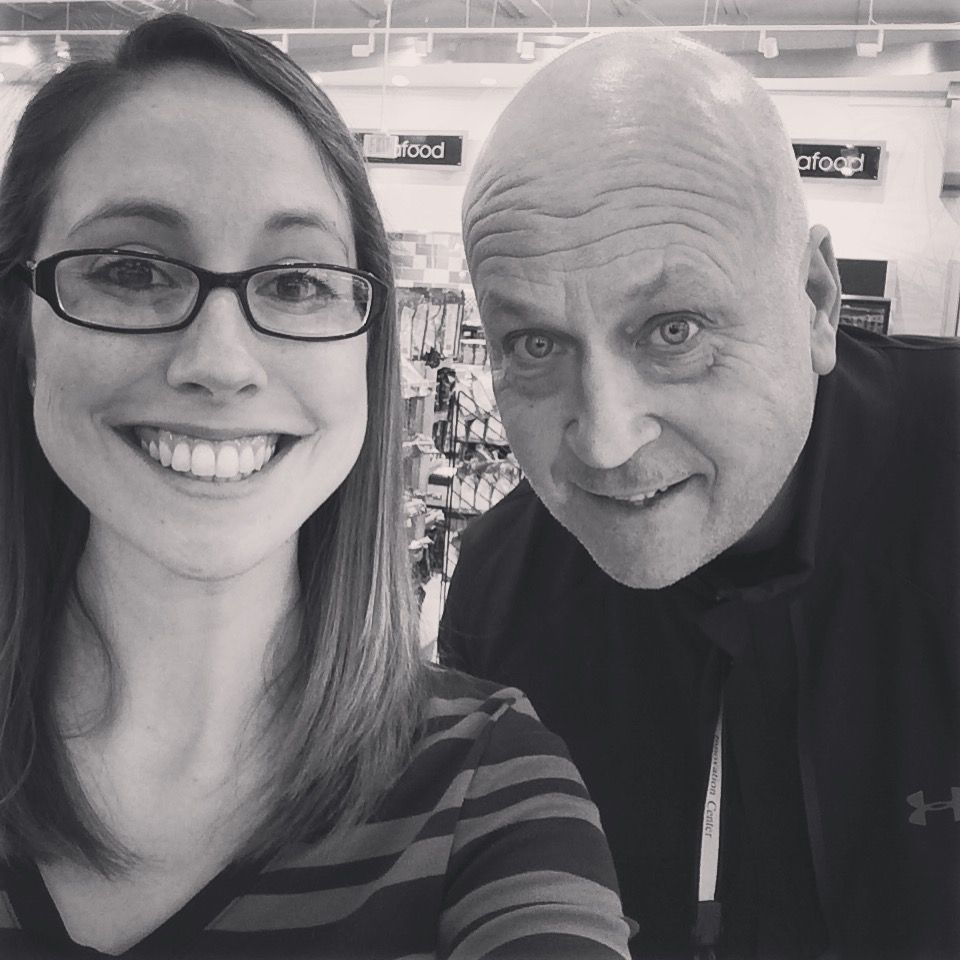 Last week I woke up on Sunday and went to breakfast with Steve, his sister and brother-in-law. We ate at Family Meal which is Bryan Voltaggio's new restaurant in the Baltimore Inner Harbor. Afterwards Steve and I had planned on going grocery shopping in his neighborhood but I was tired and went back to my house to take a nap. When I woke up I packed a few boxes for the move and finally decided I needed to go to the grocery store near my house or I would never go.
Usually I love grocery shopping. I always have a list of two or three recipes that I plan on trying that week and get excited picking out all of the ingredients. This time it was a chore that needed to get done and I was in the zone. I wasn't focusing on anyone around me and headed straight to the produce section to get started. I grabbed a bag and started checking out the onions when I realized my cart was in the way for a man standing near me. I didn't look at his face, I just noticed his body language and that I was clearly in his way. I made my selection and moved my cart a little to the right to pick out some potatoes and I was again, in his way. He moved to the other side of me and we found ourselves looking at the potatoes like they were the most interesting thing in the grocery store mind you I still hadn't looked at his face. "What do you think a purple potato is?" "Hmmmm I'm not really sure, that's weird right?" I asked as I looked up and saw his face. It was Cal Ripken, Jr. The man who I had been cart dodging and purple potato chatting with was Cal freakin' Ripken, Jr.
I had no idea what to do or say because I'd never been that close to a celebrity and Cal is a Baltimore legend. I didn't want to let this moment pass me by and I knew if I didn't get a photo with him no one would believe I saw him. You see my cousins are huge baseball fans (they've been to almost every MLB stadium in the country) and my boyfriend is a born and bred Orioles fan. If I told them I talked to Cal Ripken Jr. in the grocery store they would think I was confused and had mistaken him for someone else.
I pulled out my phone and quickly researched what purple potatoes are. Right then Mr.Ripken pulled his cart near me so I said in a very low voice "Mr. Ripken? I'm sorry it took me a minute and I think I was in shock but to answer your question purple potatoes are popular in South America and have an abundance of antioxidants…can I get a photo with you?" He smiled and shook his head yes and I snapped a photo. He is way taller than I anticipated (6'4") and had to squat to get into the shot. He said it was one of the best photos he's ever seen of himself because his head looked smaller than it actually is.
After taking the photo I was all in a tizzy. I forgot the layout of the grocery store and had to keep going back to different aisles to get the items I had passed by. This was super awkward because it meant I had to pass Cal a total of three more times. Each time I got more flustered and couldn't get myself together.
Finally, I was nearing the end of my list when I noticed him chatting with someone in the dairy section. Just like I was, the person was so invested in their shopping list and barely looked up at him. As soon as he walked away the man turned to look at the person he was speaking with and dropped everything in his hands. He had been talking to Cal Ripken Jr.
It was hands down the coolest experience I have ever had and as I was walking out of the grocery store I felt like I had a secret. I wanted to whisper "Cal Ripken Jr is in there!" to the folks heading into the store but he's just an ordinary man trying to do an ordinary Sunday task and even Baltimore legends deserve to do so in peace.