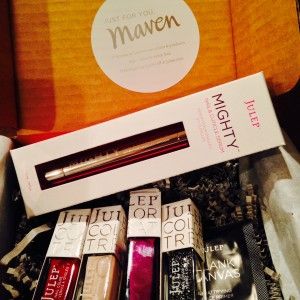 You may be surprised at the title of this post since I've tried a handful of box subscriptions. They can be really fun, but after moving a few weeks ago I have a whole new perspective on them and won't be signing up for cosmetic box subscriptions any more!
I've tried everything: Birchbox, Ipsy, Julep and Square Hue. The excitement of getting a box in the mail and not knowing what was inside was my driving force to stay subscribed, but eventually I realized that the products were adding up, the cost was adding up, and my satisfaction level was going down! I unsubscribed to all of my subscriptions for a few reasons..
The price for what you get- This one kills me. When you break it down you are paying less than what the box items would retail for, however, I have never received a box where I've used every item that came in it. In one bag I love the lip gloss and the nail polish but the bronzer and glitter eye shadow, not so much.
Waiting Lists- Why, why, why. I understand why waiting lists exist for box subscriptions but why I EVER waited is beyond me. Again, the box wasn't worth the wait and I feel silly for waiting and checking my status on the wait list for three weeks before getting my first Birchbox.
Bags and boxes galore- When I first started getting Birchboxes I loved the little box that my items arrived in because I used them for various purposes. I wrapped presents for other people and stored smaller items in them. When I saw that Ipsy items came in a small makeup bag that changed every month I was done with Birchbox and wanted the fun bags. After a year of the Ipsy subscription I am now drowning in makeup bags and was appalled at my collection while packing last month. I use a few of them for organizing little items in my work bag but the majority of them have been sitting in a drawer untouched for months!
Are you sure you want to cancel?- With any subscription, you have to manually cancel it on your own. Amazon Prime and Netflix are two examples of services that you can easily manage and unsubscribe from via their website. Most subscription boxes require you to jump through hoops to cancel. My Julep Maven subscription was the hardest to cancel and took three phone calls with their customer service department to do!
$$- Right now I'd rather spend the $20 a month on saving for a trip or an experience that I can share with my friends and family. I'd rather attend a wine tasting or take a cooking class than use a $20 lip gloss. The cost per box starts to add up and once I sat down and took a good hard look at what I was getting for the price, I wasn't so happy anymore.
Again, these are my personal opinions and everyone is entitled to how they feel. This time last year I was ripping open a Julep Maven box but for where I am in my life right now, they aren't worth it anymore.