The Good
Teeny Templeton catches her fiancé with two other women only to turn up dead a few days later and Teeny is framed for his murder.
That sounds pretty serious and I found this book when looking for recommendations that were similar to Gone Girl. It definitely is suspenseful and I felt like I was playing a game of Clue while reading the book, but it's also funny and light-hearted. The story takes place in Charleston and really I love any story that talks about southern traditions and charm. I read this book from cover to cover in two days flat and bought the second book before finishing this one.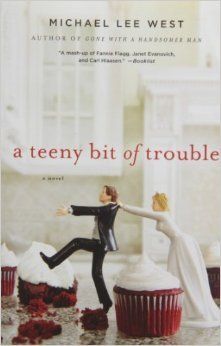 Teeny gets herself into trouble when she witnesses a murder and discovers a group of people from her hometown have opened a chop shop and are harvesting body parts.
I know that sounds a little crazy and I felt silly typing it out, but the story is so captivating. I didn't know how the second book would come close to the first but it most certainly maintained the suspense, drama, humor and my complete infatuation with the characters and their story.
The Bad
When I was halfway through the second Teeny Templeton book I went online to purchase the third and have it ready to go. That's when I noticed the Pre-Order button. The third book isn't released until 2020. How am I supposed to wait that long?! I guess it's time to find a new series to plow through.
The Ugly
It's taken me two weeks of trying to read "Girl on a Train" to finally put it down for good. I had heard that everyone was reading it and it was the next "Gone Girl". I bought the Kindle edition and got really into it around the third chapter, but then it took a turn and became dark and depressing. I don't want to go to bed at night reading about a girl whose life is spiraling out of control. I stopped read it.