I am Insta-obsessed. I remember when Instagram first came out and I was slapping every filter on my photos whether they looked good or not. These days I'm actually making an effort to take creative and interesting images and then editing appropriately. I also really love connecting with other people over Instagram. Last week I was talking to a fellow Baltimore blogger because we had both recently eaten and 'grammed the same thing at a local restaurant. Also, last week the National Aquarium reposted one of my images of the harbor which was pretty cool.
I have some favorites when it comes to other Instagram accounts. Whether they capture beautiful images, are super creative, or make me laugh consistently, each account brings something different to the table.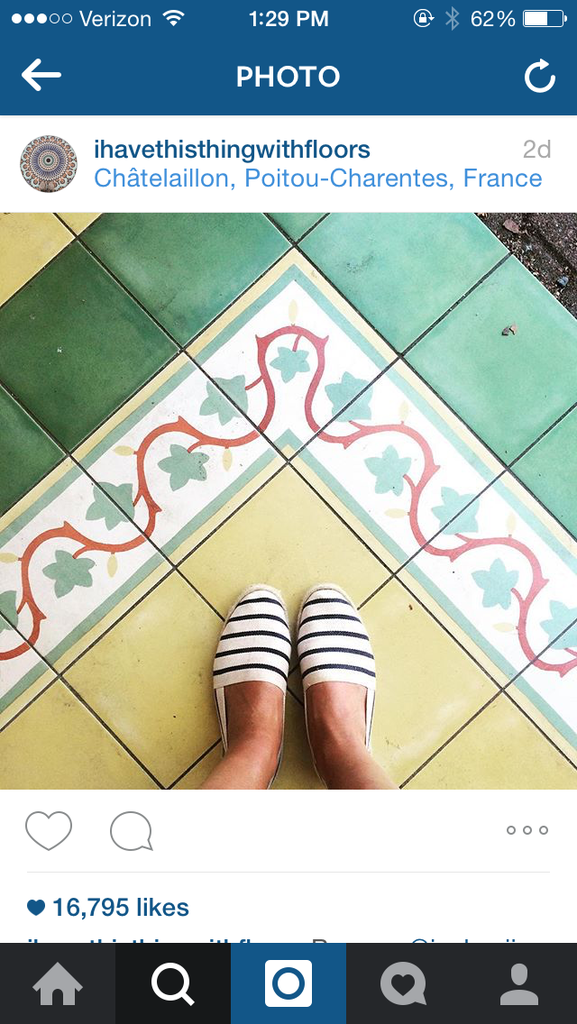 @Ihavethisthingwithfloors – I am a sucker for a cool floor #thingsIneverthoughtIdsay I'm just really into architecture and also interior design so a cool tiled floor or a funky carpet really draws my attention. I'm also a girl so naturally, I love looking at everyone's shoes.
@ABeautifulMess – I love Elsie and Emma's blog and their Instagram account is no different. Bright, colorful, and SUPER creative. I am always happy scanning through their photos.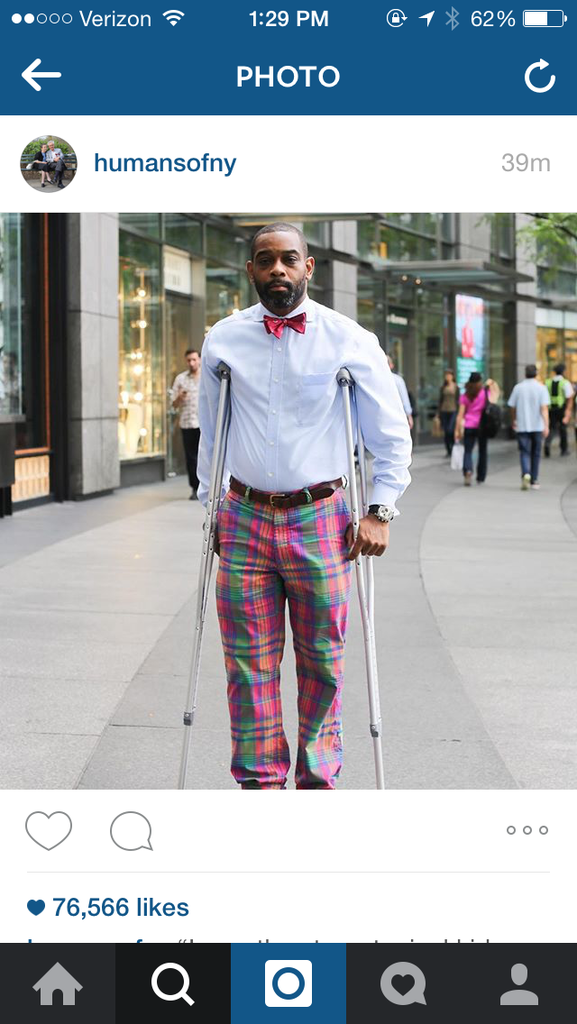 @humansofny- I'm pretty sure everyone knows about this Instagram account by now but I've been captivated for months. I also bought the book a few weeks ago! There are so many people in this world going through hard times, celebrating happy times and looking for someone to talk to. I wish I could reach out and hug some of the folks that are featured on Humans of NY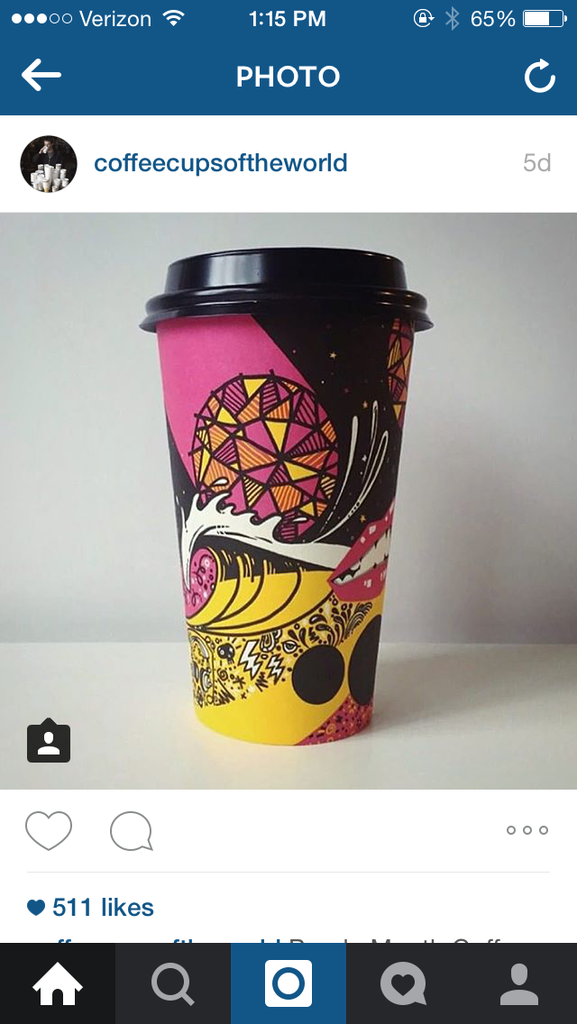 @coffeecupsoftheworld- I always get excited when I go into a cafe and find that they have fun to-go cups! Seeing cups from all over the world is pretty cool.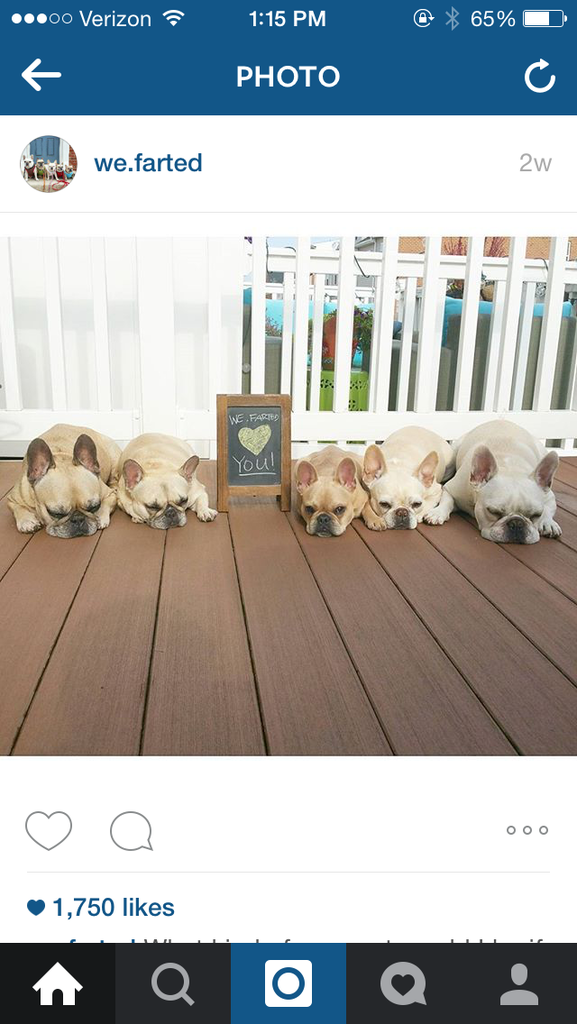 @we.farted- I love these frenchies!!! Their Dad trains them to sit, stay and do all sorts of things. He also dresses them up for every occassion, roller blades with them on his back and takes them to Yappy Hour's around the city. What city you ask? Charm City! I first saw these pups at an event for The Baltimore Humane Society and have been following them ever since.
@natgeochannel- There was a period of time when I wanted to be a National Geographic Photographer. I'm definitely not cut out for the job, but I would die to shadow a Nat Geo Photographer someday. The photos and things they see are absolutely incredible.
@dcfoodporn- I wish we had a Bmorefoodporn Instagram account, but I follow the DC one for inspiration of places I need to check out. I also get ideas for dishes that I need to recreate!
@shakeshack- Shake Shack's branding is on point and every photos they upload makes my mouth water. I am a sucker for burgers and fries!
@pohthedogsbigadventure- Poh the dog is one of my favorite Instagram accounts right now! This sweet little angel is going on the trip of a lifetime with his parents who have created a Bucket List and are checking things off as they see them. Poh's health is deteriorating and his parents want to make sure his last days on Earth are good ones.
What are some of your favorite Instagram accounts?