Instagram has definitely stepped in and taken the spot as my favorite and most used social media platform and I think that goes for a lot of people my age. I am constantly snapping pics for the 'gram and love to share what I'm up to with my friends and family. I also use Instagram as a tool for my blog and try to post interesting photos that go along with my blog posts (when I remember).
Over the past few weeks I've been taking a lot of photos from the Inner Harbor and noticed that they were getting repetitive yet people were double-tapping left and right. I think there are classic places in Baltimore that offer up an Instagram worthy shot.
This leads me to my take on the Top 10 Instagrammed Spots in Baltimore
Federal Hill
The view of the harbor from Federal Hill is one of the best views of the city in my opinion. Federal Hill is my happy place and has always been the first place I go when I need to clear my head or just relax. There's something so relaxing about sitting up high and looking out onto the city.
I see the most diversity amongst Federal Hill photos too. Black and white, different angles, HDR effects- the possibilities are endless.
Camden Yards
Orioles Park at Camden Yards is one of the most popular photos on my newsfeed at game time. Whether you're holding a Natty Boh in the air, posing with friends in Orioles gear or taking that iconic photo of the field with the warehouse in the background, Camden Yards photos never get old!
Inner Harbor
How crazy is it that Baltimore is a city built around the Inner Harbor? I can walk two blocks from my house and stand along the water with a clear view of tall buildings looming over the dragon boats. I have always lived close to the water and the proximity to the harbor was a huge factor in my move to Charm City three years ago. The photo possibilities at the Inner Harbor are endless!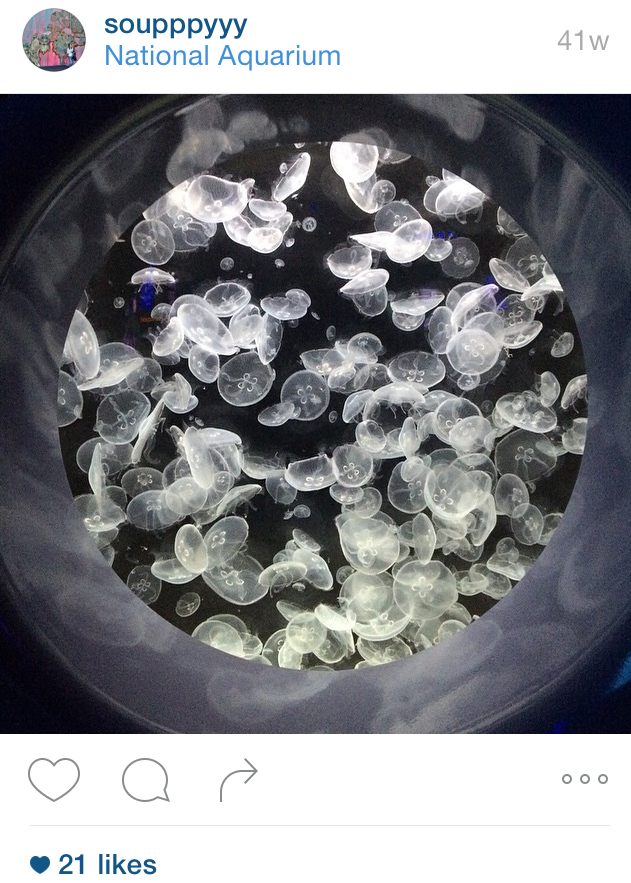 National Aquarium
The aquarium is one the best spots to take visiting friends and family! The jellies pop up on my newsfeed almost daily during the summer months and I have to say, I'm kind of obsessed with my photo of them as well.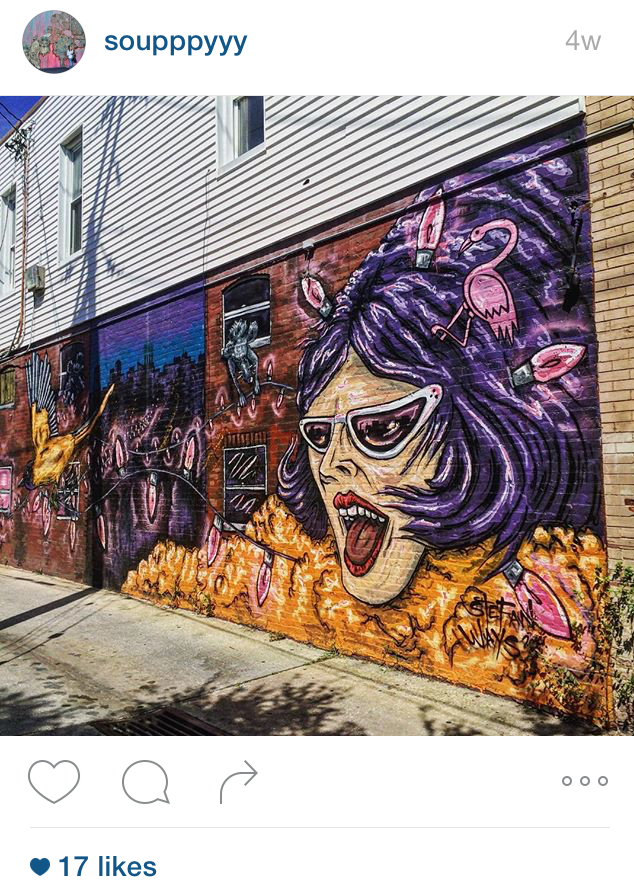 Hampden
Hampden is a cute little town just up 83 where the term 'Hon' is taken very seriously. The food is good, the shops are cute and the artwork is on point. I love this alley mural that I stumbled across a few weekends ago. Hampden starts to pop up on Instagram newsfeeds during the holiday season when 34th street turns into a sparkling block of Christmas cheer.
Graffiti Alley
Baltimore City has no shortage of graffiti, but most pieces don't last long since it's illegal throughout the city. Graffiti Alley located in Station North is the only part of the city where graffiti is totally legal and encouraged. I've been a few times and the best part of visiting is that the artwork is always different! I try to make a point to stop by once every season to see what's new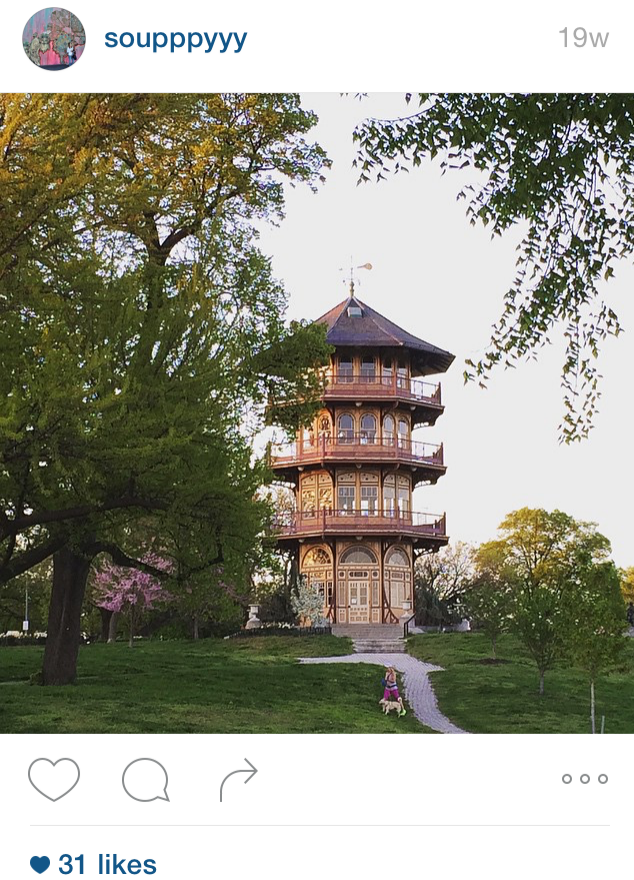 Patterson Pagoda
There are a ton of small parks in Baltimore City but Patterson Park is the meca of parks! It's so large it had to be broken into two with a road running in between. I visited the park a handful of times before I even noticed the Pagoda. It's one of the best kept secrets of Patterson Park.
AVAM
The American Visionary Art Museum is hands down one the prettiest building in the city! Driving by on a bright sunny day can be blinding, but it's so gorgeous! The mosaic patterns of recycled material sparkle in the sunlight and the outdoor sculptures are intriguing.
Bromo Seltzer Tower
The Bromo Seltzer Tower is an iconic building in the Baltimore skyline but because it's hidden by taller buildings its only visible from certain parts of town. When I first moved to Baltimore I lived deep in Federal Hill near Fort McHenry and had no idea that the tower existed. Once I moved up towards Otterbein I had a great view of it every single day. The history behind the tower is super cool and I love that the color behind the clock changes depending on which sports team is killing it.
M&T Bank Stadium
When driving into the city most people get a fabulous view of M&T Bank Stadium. Whether it's a Ravens game, soccer game or concert, M&T is the place to be. I especially enjoy it when I'm attending an event inside one of the event spaces and can sneak out to see a completely empty stadium.
Do you agree with my list? Can you think of others?