I am not athletically inclined. I am also not flexible and not very coordinated. This was discovered in middle school when I decided that I wanted to try out for field hockey. I made the team, but only because not enough girls tried out. Two weeks into practice I had to have minor foot surgery and I think the coach was relieved. She made me the manager of the team.
A few years down the road my high school decided to start a girls lacrosse club (we had to have a club for two years before we could have an actual team) and since my boyfriend played lacrosse I wanted to play lacrosse. I loved it, but honestly, I was not that great at it.
I don't work out regularly and am pretty out of shape. It's frustrating. I know I need to work out and get in shape, but nothing is fun or even remotely enjoyable to me. When Yelp Baltimore announced that September would be "Yelp's Fit Club" and we would test out ten of Bmore's fitness classes I was pumped. Once I looked at the list, there wasn't anything that excited me except for the aerial silks class.
My fitness goals include toning and building muscle in my arms and core and becoming more flexible (I can't touch my toes) so although I knew the first class would be rough, aerial silks could be the answer to all of goals!
Tuesday night was my Intro to Aerial Silks class with Yelp's Fit Club and to say I was nervous would be an understatement. BEYOND NERVOUS. I was sweating bullets and we hadn't even started yet. But when I turned the corner and saw the silks hanging from the ceiling I was excited!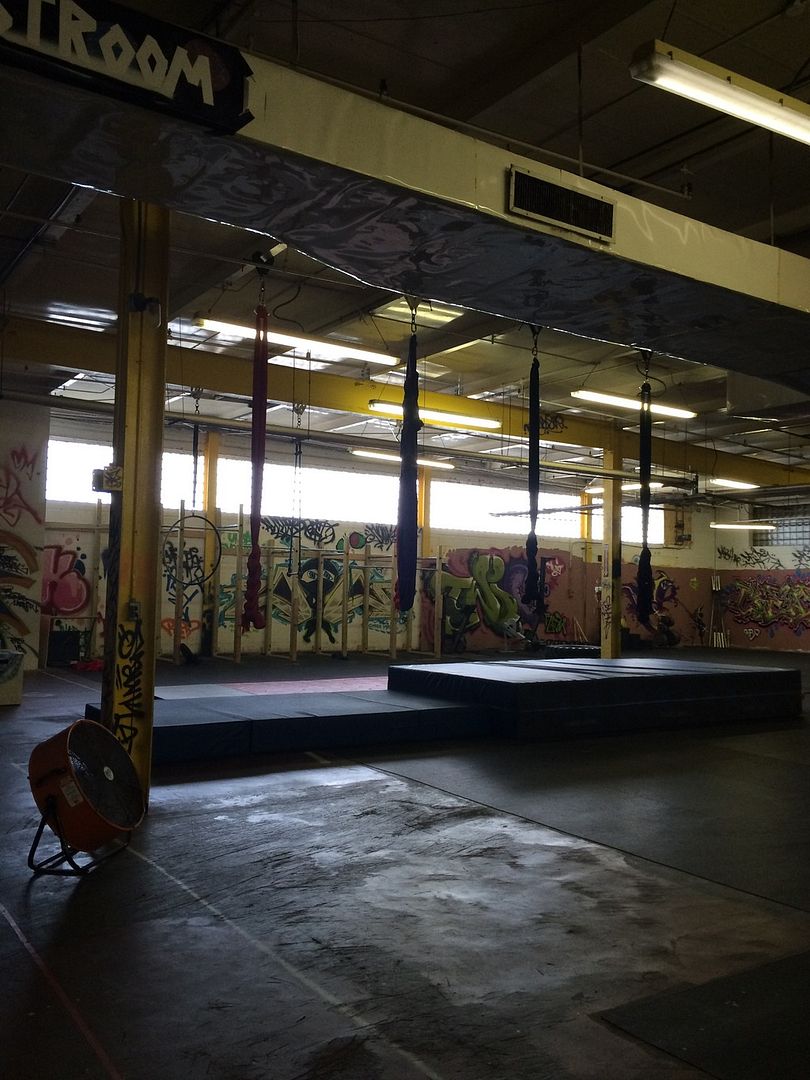 We started with a warm up which kicked my butt, this was the point in time when I realized I have a lot of work to do on strengthening my core!
Once we were all warmed up we headed to the silks! Up first was learning the wrist lock and learning to trust that you could hold yourself up with just the silks! It felt very strange at first but after lifting one leg and the other I was able to hold myself up!
Next we had to practice standing on the silks. Again, I couldn't believe that I was about to lift myself up off of the ground and stand on a piece of silk fabric. That sentence doesn't even make sense in my mind! After watching the instructors I stepped up and stood with ease. Some of the other attendees even mentioned how graceful I was stepping up onto the silks. Graceful? In a gym? I had never heard those words before!
The last skill was to be able to hold yourself on a looped piece of silk with just your arms. We learned that it's better to wear short-sleeved shirts as opposed to tank tops when you're just starting out because the ropes will literally burn the skin on your underarms.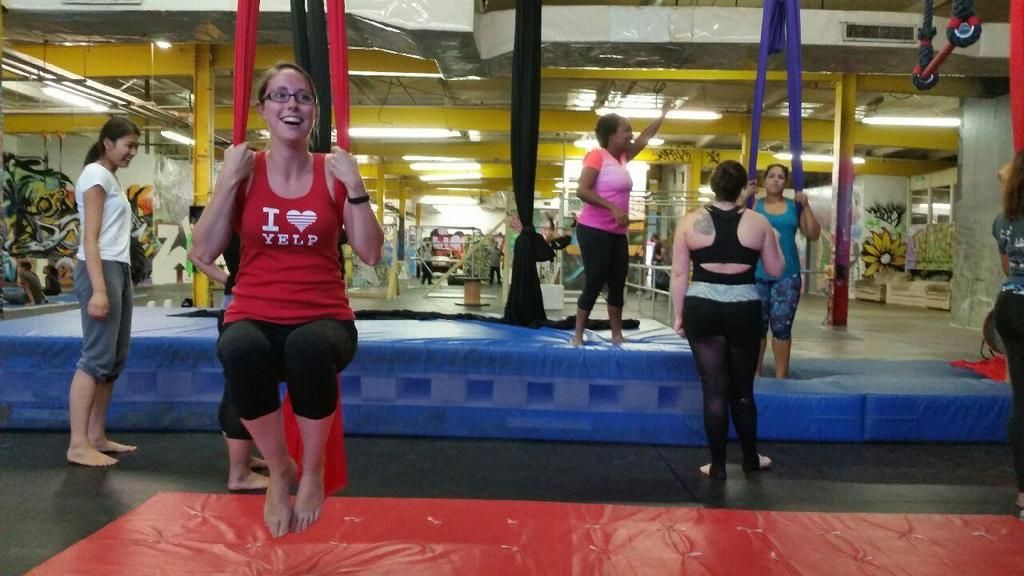 I passed the intro level and can now sign up for a Level 1 class. I left the gym feeling inspired and honestly, proud of myself. The techniques didn't come easily, I'm not a natural on the silks, but I had FUN! Anything worth having is worth working for and I fully intend on continuing on with my lessons. You never know, I could be doing a student showcase and flipping around in the air in a year or two!