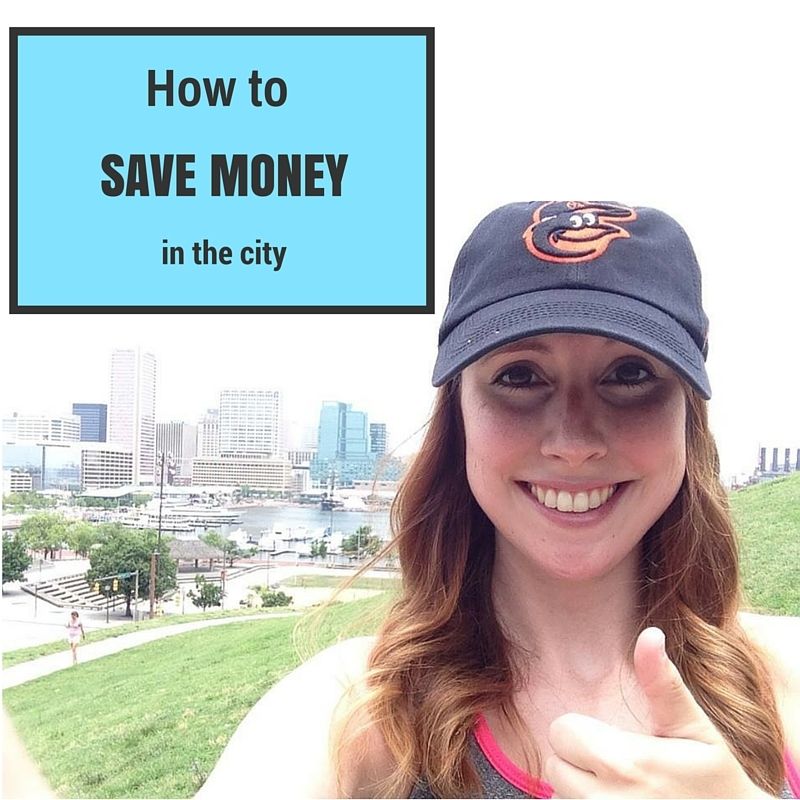 City living is not cheap. I am actually really grateful to have started my "adult life" in an expensive city learning how to budget and spend my money. Granted I learned a lot of hard lessons to get to this point, I'm still so glad for them.
Over the past three years I've learned little ways to cut corners and make city living cost a little less. It really boils down to how bad you want to save. Currently I'm saving for 2016 trips and the motivation is strong to save wherever I can!
Here are the ways I save:
Get rid of cable
I never thought I would be a cord cutter and ditch cable for good. Check out why we opted to not get cable HERE but I fully stand by our decision and am so thankful for Byrd for suggesting it! Without the temptation of cable I am able to live my life and leave the house more often without feeling like I want to stay on the couch and watch my favorite show. Instead I pick one night each week to be my alone time and I binge watch all of my shows on our Apple TV. A one time purchase vs paying a fee each month? Yes please.
Park your car and leave it- take public transportation or walk
I am fortunate enough to be able to walk to work, which means I park my car and don't move it for a few days at a time! I fill up my gas tank once a month, if that! If you aren't able to use public transportation or walk to work utilize those services on the weekends! I ride the water taxi to weekend events and walk to take care of errands on a Sunday instead of driving.
Sell your car
If you live and work in the city, do you really need a car? My co-worker sold her car and uses her bicycle as her main form of transportation. There are plenty of other resources available for those times when a car is necessary like UBER and Zipcar.
Cook at home and budget eating out
Living within walking distance of ten really good restaurants is the hardest part of city living in my opinion. I would eat out every meal if I could but I would be broke and fat. I'm trying really hard to only eat out twice a week and cook at home more often! I can pick up the ingredients for one meal for under $20 and that meals portions can last up to four meals. It's hard to find ONE meal out for less than $20.
Take advantage of happy hour specials
No one can stay away from restaurants all the time, but making smart choices allow you to enjoy yourself without feeling guilty. Most restaurants offer happy hour specials until 7pm on weekdays. One of my favorite restaurants offers $2 tacos and $4 margaritas for their happy hour special. Essentially I can have dinner for under $10. That's a bargain!
Thrift don't shop
I love that there are so many stores within walking distance to my house, but it's also a major temptation for me. A friend of mine goes weekly to our local thrift store and finds incredible pieces! The best part about living in a city is the melting pot of people that is giving their stuff away to thrift shops. You can find pieces from designer stores for a fraction of the price.
Brew your own coffee
I am a sucker for Starbucks lattes and Dunkin Donuts iced coffee but spending between $20-$40 a week on coffee is insane when I have a coffee pot at my house. I make my own Dunkin Donuts coffee at least three days a week so I can enjoy my Starbucks latte on the other days and truly enjoy it.
Find a roommate
Living alone is so expensive in the city. One bedroom apartments or even studio apartments can cost you at least $1k a month. Living with another person reduces the cost and provides a built in friend to do fun things in the city with! I've lived with friends of a friend, people I've found on Craigslist and my best friend. Some worked out better than others but there's never a shortage of folks looking for roommates.
Go to free events in the city
As someone who plans free events in the city, GO TO THEM! There are so many great festivals and events that happen daily in Baltimore that are free or low cost. Some of my favorite weekends were spent at Artscape, Fells Point Festival and the Food Truck Rally. For super cheap I had my day planned and was out and about in the city.
Do you live in the city? What are other ways you save money?