For Thanksgiving my parents and I packed up the car (along with Marley) and drove 15 hours to Atlanta. My brother moved to Atlanta (outside of the city) a few years ago but this was my first time visiting! I was super excited to see his neck of the woods and really wanted to take some time to go into the city to check it out! We only had one free day to do so and decided to hit up the World of Coca Cola.
The World of Coca Cola is a museum that allows visitors to learn about the history of coke, learn about the bottling process, and you can even taste flavors from around the world!
Before hitting up the museum we went straight to the Jackson Street Bridge which is where the iconic shot of Rick Grimes riding into Atlanta in The Walking Dead was shot. Surprisingly there were very few cars on the road so my photo looks like it may actually be during the zombie apocalypse!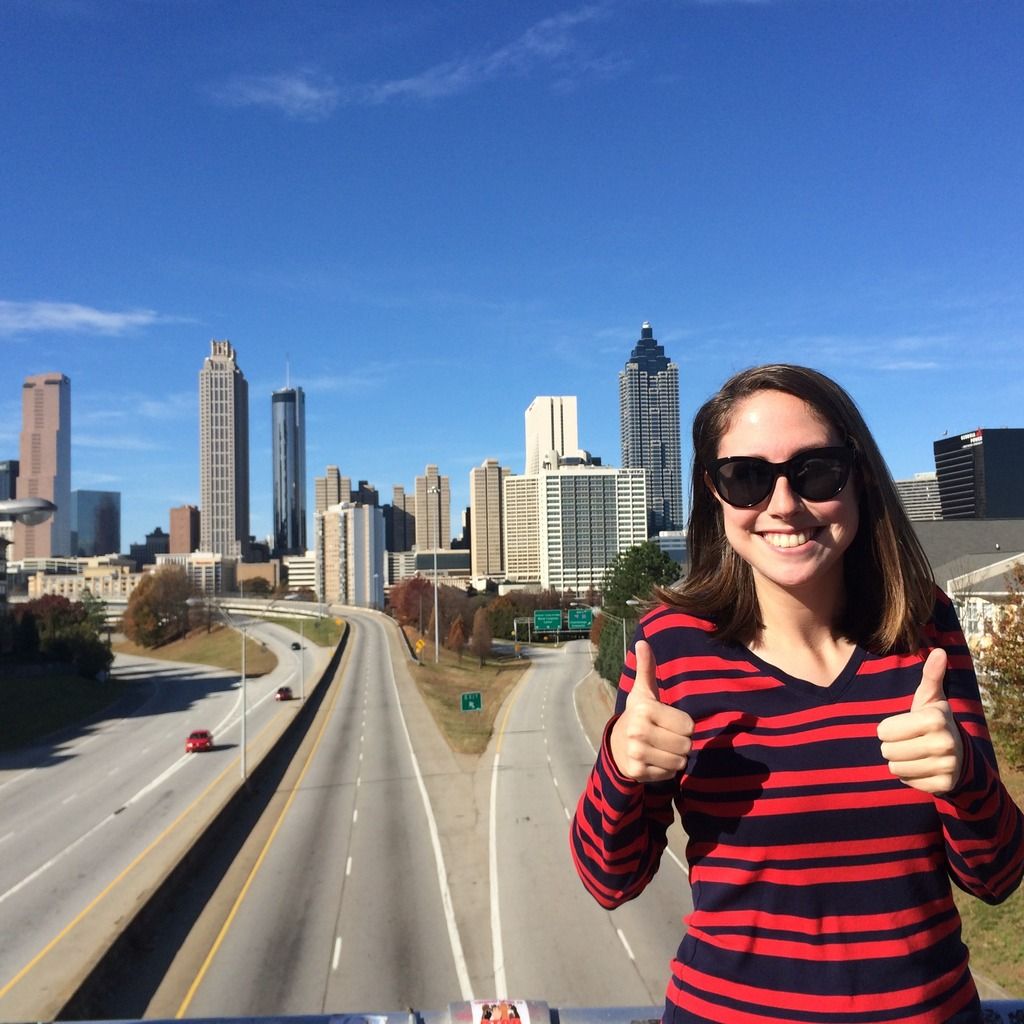 After a few quick photos were were off to the museum which was only a short five minute drive away! We arrived early which I highly recommend. We got to their parking garage around 10:30am and got parking on the top deck. It was already very full! After walking through Centennial Park we purchased tickets (pretty cheap- $16) and went directly into the building. We saw later that the line to enter was snaking around the room and was probably a 15-20 minute wait.
After a brief introduction and promo video we were allowed to enter the museum and walk around at our own pace. We hit up the history room first. It was really cool learning about how Coca Cola came to be and seeing all of the propaganda from over the years was amazing. Mom had to explain to me how the old vending machines worked since there have been so many new advancements over the years.
Next up was a 7 foot tall polar bear photo opt. I did not feel that this was necessary but my family was on board to take a group photo so I took one for the team and the photo turned out so well!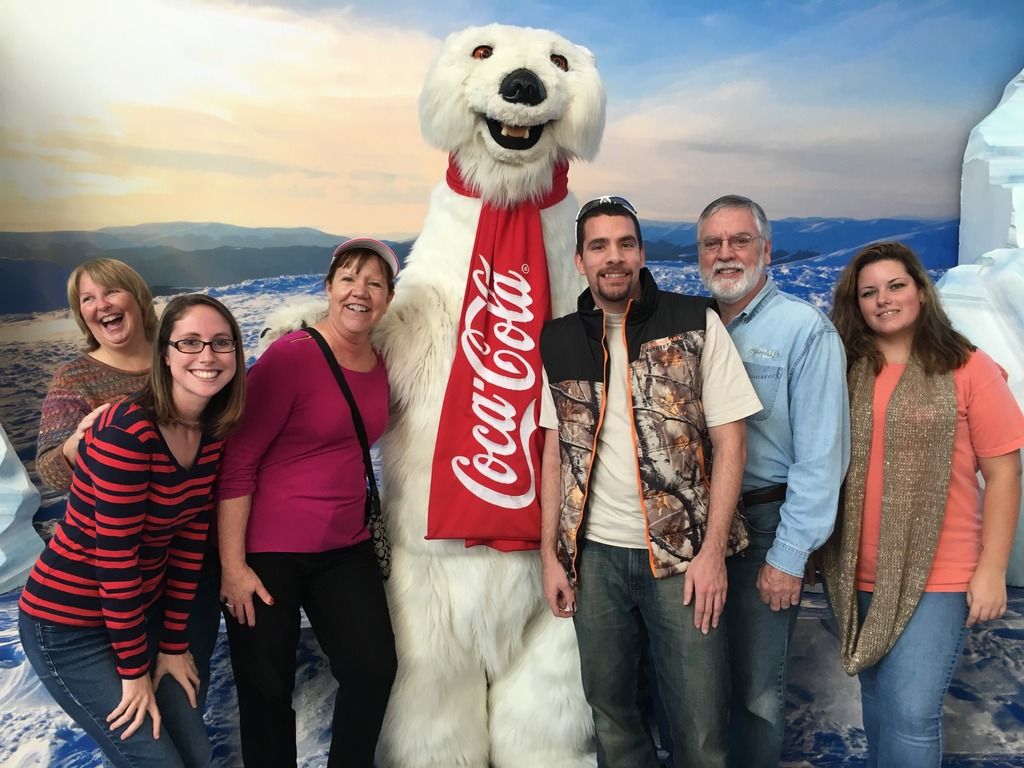 We checked out the bottling factory next and then decided to do the 4D show. I recommend you skip this. Not only was it corny but it was painful! The seats jerked all over the place and my brother who loves roller coasters felt sick afterwards. No thanks!
My favorite part of the museum and our last stop was the tasting room! There were five pillars that looked like the same soda fountains we have in fast food restaurants except each one represented a different country. I tried flavors of Coke products from Africa, North America, Europe, Latin America and Asia. My favorite was the Strawberry Fanta from Uganda.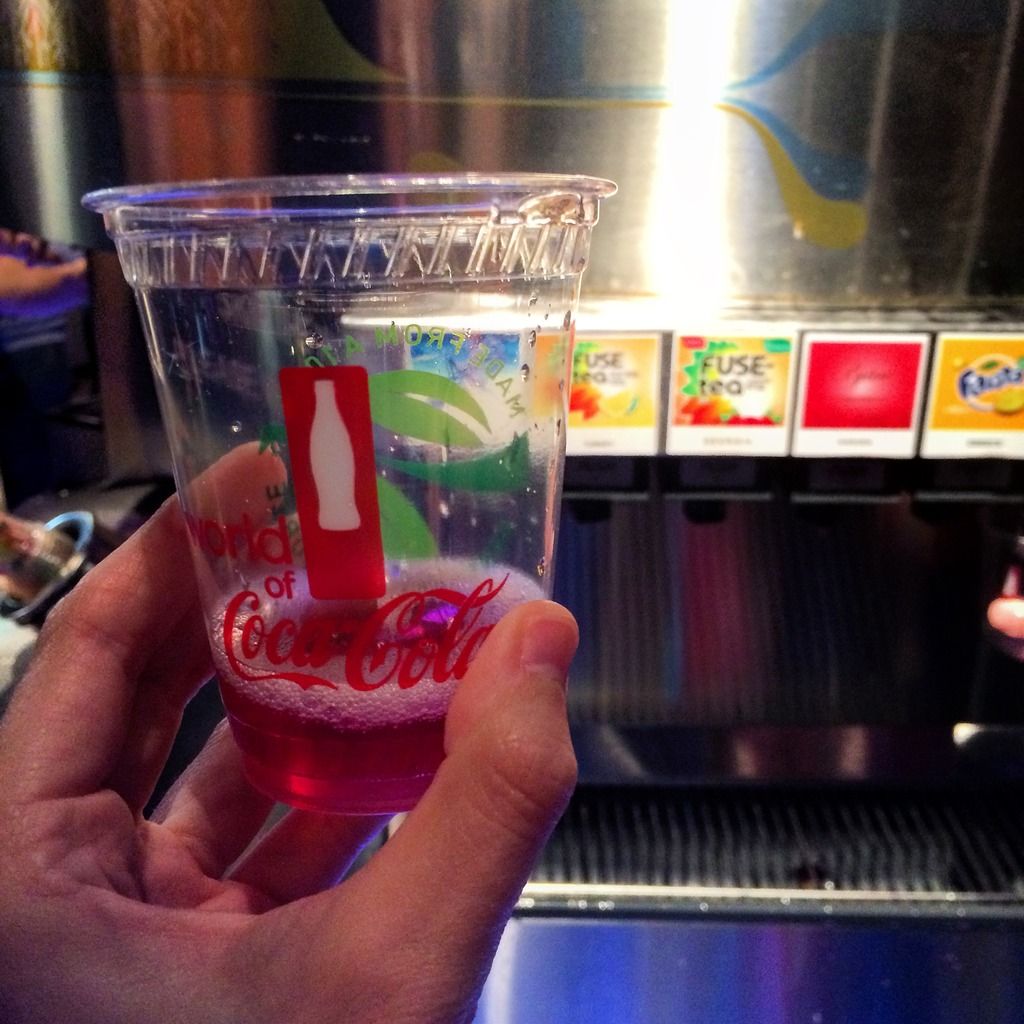 There was a Coca Cola bar set up with seasonal flavors for the holidays. Gingerbread coke is my new all time favorite and I'm actually bummed you can't buy it in the stores. I did however get the recipe for it and plan to make it asap.
After spending the day learning about soda we opted to have a nice sit down lunch at Georgia's famous Mary Mac's Tea Room. This little gem is a quick drive from my museum and the southern dishes won me over real quick.
Overall my biggest piece of advice for visiting The World of Coca Cola is to go early! When we left around 2pm the line to get in was long and the parking garage was full!
We had such a good time exploring and I've already requested a visit to the aquarium the next time I'm in town.
Have you been to Atlanta?