Today is the birthday of two special ladies in my life- my Mama and my friend Katie (Happy Birthday Boot!).
My Mom literally does anything and everything for me. She's woken up at 4am and driven to Baltimore when I was super sick and couldn't get to the doctor myself. She whisked me away for a girls weekend when I need a break from reality. She's talked me down off the ledge when adulting gets hard. She's laughed with me over good times and cried over the bad and that's only the stuff she's done in the last few years, let alone my entire childhood! Basically- she's a rockstar and I can't imagine doing life without her.
Because she does so much for me, I made a goal to give back and spoil her a little this past year. I surprised her with tickets to see Wicked on Broadway during our NYC trip in May for Mothers Day and this year my Dad and I teamed up to shock her again. We went to see Dancing with the Stars in Baltimore for her birthday!
DWTS has been on for years and years and growing up I would watch it every week with my parents. It's just fun to watch celebrities put themselves out there and try to dance! I wish so badly they had a "Dancing with Regular People" season and I could dance with Val. #agirlcandream
So when we saw that the Dancing with the Stars Live tour was making a stop in Baltimore my Dad and I jumped at the chance to get tickets. We didn't tell my Mom until the day I was leaving to head back to Baltimore after the holidays. She was so excited and we started the countdown to the big day.
That day was Tuesday! I could hardly focus at work and by 4pm I was ready to see my parents and start the evening. They got to town and we went straight to dinner before the show. My Dad is a burger guy so Koopers Tavern for $5 Build Your Own Burger was the perfect place to grab some food.
After devouring our burgers it was almost time to head to the Lyric Opera House so we called an Uber and made our way to the show.
I've never been to the Lyric before and was blown away by how beautiful it was. I felt tricked because the outside looks more modern and well, not old. But the inside was so ornate and you could tell it had been around for a while.
We asked the usher to assist us in finding our seats and as we followed his directions it slowly sank in that our seats were the best in the house. We were convinced that we had the wrong row, but my Dad was sneaky like usual and booked the best seats for us! We were on the second level but directly in front of the stage and in the front row. I didn't have to worry about having to look up to see the stage or tall folks sitting in front of me. He did good.
The show was amazing! I can't say it enough! We were able to watch the people we have grown to adore watching on tv- right in front of us! I nearly had a heart attack when Val did the Magic Mike number and I couldn't take my eyes off of Sharna. She was stunning the entire show and really nailed her dances.
The show was over two hours long with a ten minute intermission and a wide variety of dance styles and music. There truly was something for everyone who came out on the bitter cold evening to watch the Dancing with the Stars pro dancers!
Having my parents in the city was truly a blessing. Watching one of our favorite shows live was truly a blessing. Be able to celebrate another birthday with my Mama was truly a blessing.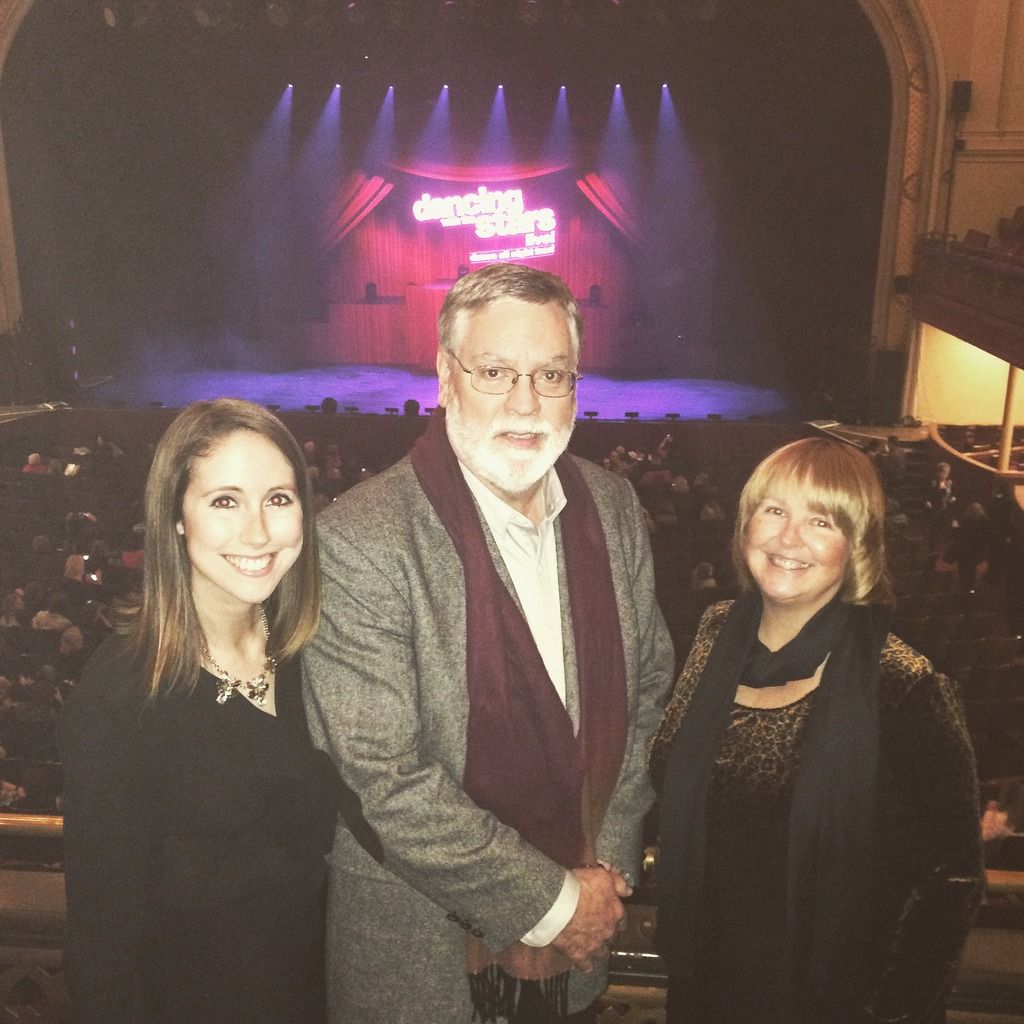 Now I'm looking forward to March when the new season begins!