We are back safe and sound and I can't believe that the New Orleans trip is over already! With blizzard Jonas on his way to Maryland we left quickly and just in time to avoid getting hit with the worst of it. We left last Wednesday and drove 9 hours to Tennessee (where we saw our first sight of snow!). Slept for five hours and then finished the rest of our drive to Nola on Thursday. We got to our Airbnb around 6pm on Thursday and played until we left on Sunday afternoon.
I had a lot of things I wanted to do and see and I think we crossed off a large portion of those items. We will definitely be going back to New Orleans to finish that list and hopefully we will visit during warmer temperatures next time. Temps while we were there sat between 40-50 degrees. I can't complain since everyone at home was snowed in, but come on! I wanted some warmth and sunshine!
After 72 hours in New Orleans I have some solid suggestions on things to Eat, See and Do!
Eat
My favorite meals during this trip were St.Lawrence and Stanley's. St. Lawrence was a little off of the beaten path and was the restaurant we went to for dinner after we got to town. Chris and I split a bowl of gumbo and he devoured a pasta dish with crawfish and shrimp. We both agreed it was the best meal we had all weekend.
I also really enjoyed Stanley's for breakfast on our first morning. We had a walking tour which left from Jackson Square at 10am on Friday morning. Stanley's is right on the corner of the square and our food came out in under 15 minutes allowing us to take our time and still make our tour!
No trip is complete without a stop at Café du Monde. While I'm absolutely glad we did it and the beignets were INCREDIBLE, I didn't like the environment of the restaurant at all. I'm assuming that the dining area is open and airy during warmer months which would make it so much better but since it was cold the walls were down and it felt like we were eating in a cafeteria. The beignets were totally worth the visit but we were in an out quickly.
See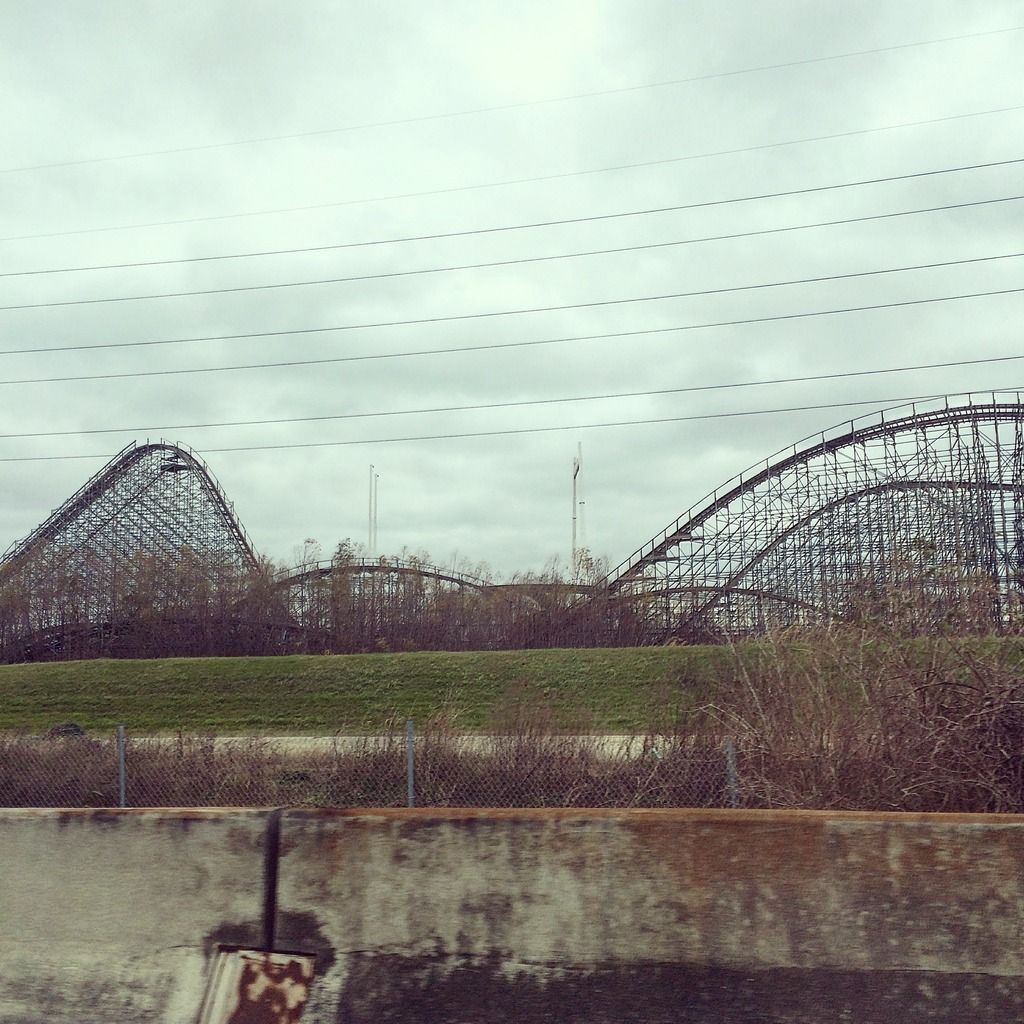 We spent the majority of our time in the French Quarter. There was so much to see and do! My favorite part was just wandering hand in hand with Chris. We watched street performers, danced along to the music and wandered through shops and restaurants.
After Hurricane Katrina I remember reading that New Orleans Six Flags was not going to open again. The devastation was too great and rebuilding wasn't something Six Flags was interested in doing. When I worked for Run for your Lives we almost threw a race there and it was my dream event. Unfortunately it didn't happen but I still wanted to see the theme part with my own eyes. Driving by was the closest we could get (legally) so Chris was the best boyfriend ever and drove me by twice so I could see it and snap some photos. It was so eery and beautiful at the same time.
Do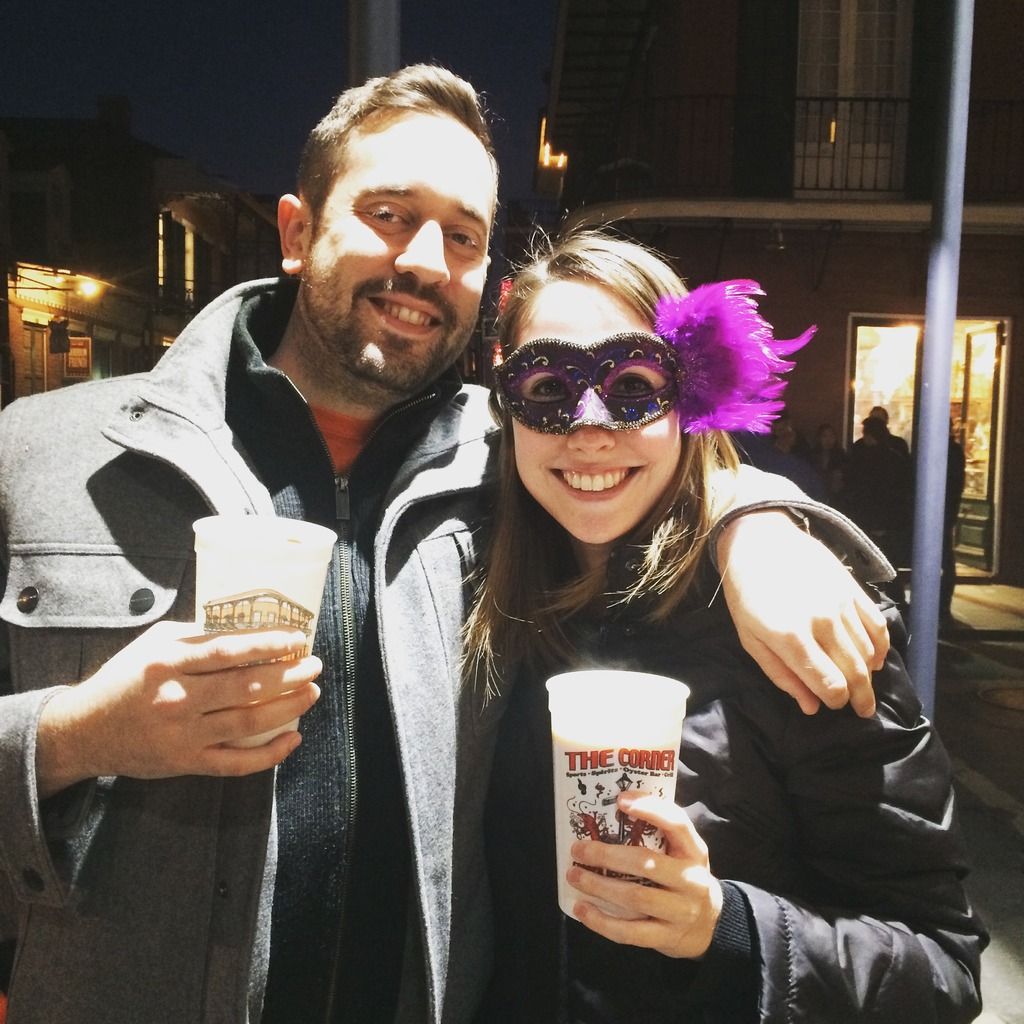 I can't speak highly enough of our walking tours. I wanted to do one of the French Quarter on our first day so we could get our footing and learn where everything was. The Free Tours by Foot tour of the French Quarter was awesome. We learned about the history of the city and picked up a few places we needed to check out.
The Presbytere houses the Hurricane Katrina museum and the Mardi Gras museum. I wanted badly to learn about both so we wandered through the museum one afternoon. For the cheap price of $6 we had admission to both museums. It was incredibly emotional to walk through the Katrina exhibit and to see the devastation in the city I was currently visiting. I highly suggest doing this if you are in town.
Our ghost tour was probably my favorite part of the whole trip. We bought tickets through French Quarter Phantoms which included two drinks at the Voodoo Lounge and an almost two hour tour. Our tour guide was awesome and what is better than listening to awesome ghost tours in one of the most haunted cities in the country with a drink in your hand?
The craziest thing we did all weekend was watch the Krewe du Vieux parade on Saturday. When I booked this trip I had no idea we were going to see a part of Mardi Gras! It wasn't until we took the Uber ride into town on our first night and our driver asked if we were excited for the parade…what?! Saturday was the first parade to kick off Mardi Gras and was the most vulgar and x-rated parade during all of Mardi Gras. It was AWESOME!
Although we were in town for a short period, it was enough! We were constantly on the go and exhausted each night. There is absolutely something for everyone and I can't wait to go back again when its warm! Our French Quarter tour guide told us our tour was one of the two worst ones he has ever done- the other was in 110 degree temperatures. Yikes.
Have you ever been? What was your favorite part?