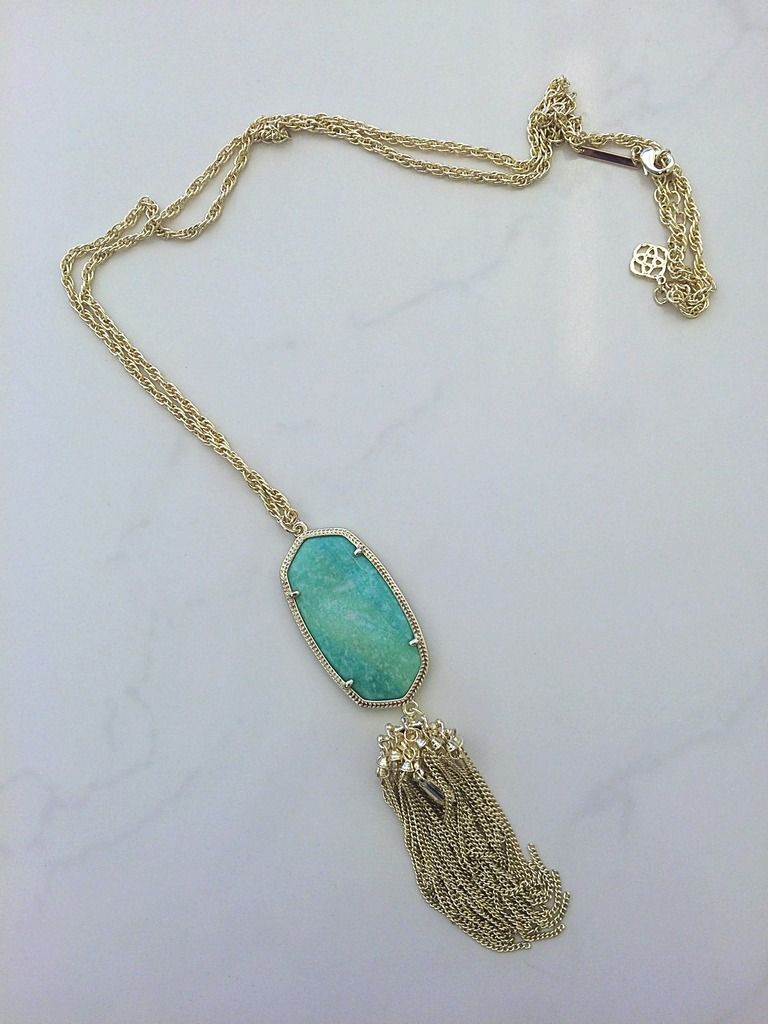 Kendra Scott
Rayne Necklace in Amazonite
When I opened the box and saw the GORGEOUS Kendra Scott necklace waiting for me I was so excited but also a little apprehensive. I love most of Kendra's necklaces especially THIS one, and I've seen her long gem necklaces on almost every blogger I follow but tassels? No thanks. It's just not my thing. In an effort to step out of my comfort zone I wore the necklace to work and received so many compliments! After wearing the necklace a few times over two weeks I grew to not mind the tassel on the necklace and started to love the statement piece.
I really liked the blue/green stone and wore the necklace with two different dresses and even a pants and structured top combo. The photos above show the two dresses that I paired the necklace with and I loved both of them.
I wear a lot of black so the necklace definitely gave me a pop of color when I wore the lace dress from Target. Pairing the necklace with black was an easy decision but pairing it with a navy dress was out of my normal style choices. I also wore the necklace with a bright coral dress and thought the blue/green stone worked well and complimented the pink dress.
Did I buy the necklace? No. Would I go out of my way to purchase a tassel necklace? No. But did I think it worked well with my current wardrobe for a few weeks? Yes. I'm learning to branch out and try new things through Rocksbox and I'm thankful for that!
If you want to get your first month of Rocksbox FREE, enter my code at checkout! soupppyyyxoxo