Have you ever met someone so passionate about what they do that it's infectious? Someone who lights up when they talk about their business and makes you want to sit and hear every behind the scenes story they're willing to share? Chris and I definitely did when we met Cara, owner of Blue Pit BBQ in Hampden. Cara and I connected via email and she was kind enough to invite Chris and I to the restaurant to learn more about the bbq she serves up seven days a week.
Blue Pit BBQ gives off a chill and relaxed vibe as soon as you walk in the front door. About the same width of a rowhome, it has limited seating downstairs in addition to seats at the bar, but you'll find outdoor seating and additional seating upstairs. Blue Pitt BBQ is different than most of the restaurants in the neighborhood because they operate on pub style service. Instead of having wait staff assigned to sections of tables, they ask that patrons order their food and drinks at the bar and then grab their seat. In asking Cara why she chose that style of service she brought up a good point, who wants a waiter coming over every fifteen minutes to check on them and push them to the next step in the meal? Instead you can pace yourself and not worry about a waiter trying to turn tables quickly to earn more tips.
Cara wants folks to come to Blue Pit BBQ hang out! She encourages guests at the restaurant to hang out for a while, enjoy the night, the food, the drinks, and the company before rushing off to do the next thing. All of which you can do on the outdoor patio out back or upstairs by pushing together tables. We wanted to sit outside but sadly it was pouring on the night of our visit.
Blue Pit specializes in barbecue and WHISKEY! The bar is stocked with over 100 different whiskeys and I WISH I was a whiskey girl but I stuck with the Pink Flamingo (strawberry vodka and basil lemonade) and it was delicious!
The menu at Blue Pit BBQ is outstanding and very diverse. I couldn't decide between the pulled chicken and the pulled pork but also really wanted to try the brisket and bratwurst. Cara convinced us to order dishes we wouldn't normally and I ended up with a tray of barbecue chicken legs, 18 pit cooked pulled pork, and Zeke's coffee rubbed brisket.
Chris got the brisket as well, the bourbon glazed St.Louis pork ribs, and smoked Union Anthem bratwurst.
We swapped around meats, dabbled in the plethora of sauces available at each table and audibly enjoyed each bite. Honestly- I was going to play it safe. I was going to order the pulled chicken sandwich and would have missed out on the chance to try each of the dishes on the menu.
If I had to rank them I would say my favorite was the Zeke's coffee rubbed brisket, followed by the smoked Union Anthem bratwurst, and the pulled pork. All three were amazing and it was hard to pick my favorites out of all six meats.
But the food wasn't the only thing that impressed me about Blue Pit BBQ. Cara's passion and desire to support her fellow local business owners is incredible. Not only does she partner with Zeke's and Union Brewing Co for two of the items on her menu but she is a long time supporter of BARCS (Baltimore Animal Rescue and Care Shelter) and has one wall in the restaurant devoted to photos of animals that are up for adoption.
If the delicious food, support towards local businesses and love of animals wasn't enough to win me over, Cara was wearing a Mr.Trash Wheel t-shirt when we showed up. I mean, really?!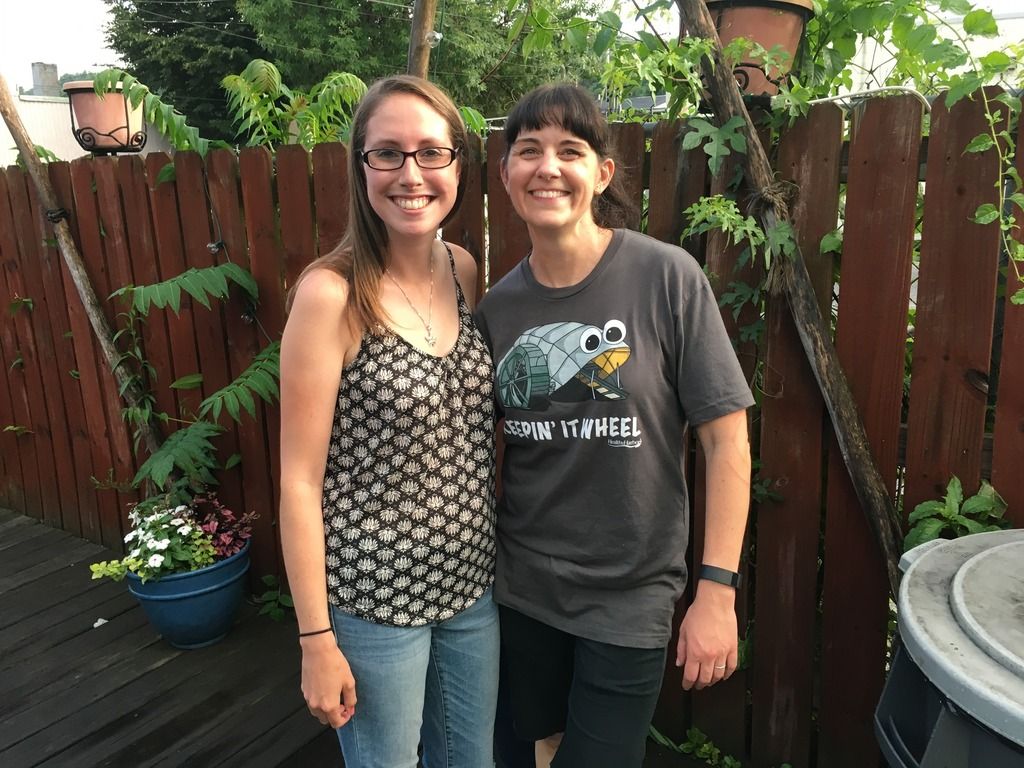 Chris and I are already planning our next visit to Blue Pit for a group Happy Hour and I really want to bring some of my fellow bloggers out to this hidden gem!
Blue Pit BBQ and Whiskey Bar can be found at:
1601 Union Avenue
Baltimore MD
Have you been to Blue Pit BBQ?