This shop has been compensated by Collective Bias, Inc. and its advertiser. All opinions are mine alone. #Homemade4TheHolidays #CollectiveBias
The holiday season is upon us. The smell of gingerbread wafting from the kitchen, pine needles strewn about the house from a feisty puppy, the sound of wrapping paper tearing under little hands and laughter from loved ones filling the house. It's the most wonderful time of the year, I truly believe that!
But beyond the presents and ugly sweaters, the heart of the holiday season for me is spending time with family over good food! Cooking is my love language- nothing makes me happier than gifting a tin of homemade cookies or serving hot from the oven lasagna for my loved ones to enjoy. It brings me joy and I treasure the holiday season because of the extra time I have with my people.
My brother lives fifteen hours away from me now, but he didn't always. We grew up in a small rural town in the house our parents built together and our grandmother was only a quick drive away. Mommom used to stop by the house every Thursday and take us in town to Britt's Diner. We'd each enjoy a heaping plate of chicken & dumplings (their special on Thursdays) and catch up on what had happened since we last saw her at Sunday night dinner.
But over time the inevitable happened- we got older and so did she. Thursday chicken & dumpling meals together came to an end and my brother moved away a few years later. It's been at least ten years since we've shared a meal of our favorite country dish and I'd love to do that this holiday season.
Luckily, Swanson® Chicken Broth and Campbell's® Cream Soups make it easy to whip up a crockpot of chicken & dumplings. Sam's Club also makes it super easy to buy the ingredients needed to fill my crockpot for a hearty batch! I love Sam's Club because I have the ability to buy in bulk which is not only cheaper for me, but helpful when I want to make a LOT of chicken & dumplings to donate to a local shelter. The 6 pack Swanson® Chicken Broth (32oz) is awesome because it's resealable so I can use what I need and save the rest and it's 100% natural and delicious! The 10 pack Campbell's® Condensed Cream of Chicken Soup (10.5 oz) is a convenient pantry pack that I can pull from to make large batches and store away out of sight when not needed. It's also artificial flavoring, color and preservative free! Making it super yummy and perfect for soups and crockpot meals!
I feel so incredibly blessed all year round but the feeling is heightened during the holidays and I'm happy to buy in bulk and make a few batches of my favorite hearty chicken & dumplings recipe to share. I'll be taking a batch to a local homeless shelter to hopefully fill and warm up bellies. I'll also be donating any unused Campbell's® Cream Soups and Swanson® Broth to the Maryland Food Bank to help those less fortunate in Baltimore.

I especially love that this is a crockpot recipe and not a stove top recipe. It allows me to get up early, throw everything in and then spend the rest of the day and afternoon with my loved ones. It's so crazy easy and takes less than ten minutes to prep! Also, one crockpot makes about ten servings so more for the whole family! Less fuss and more time to make memories together is a win-win for me!
Ingredients:
1 yellow onion, diced

1 can (10.5 oz)

Campbell's

® Condensed Cream of Chicken Soup

1 can (10.5 oz) cream of celery soup

1 tablespoon fresh parsley

Black pepper to taste

2 skinless boneless chicken breasts

2 cups of

Swanson

® Chicken Broth

1 ½ cups of frozen peas and carrots, thawed

1 can of refrigerated biscuits
Steps:
Add chopped onion into crockpot and top with chicken breasts

In a small bowl combine cream of celery soup,

Campbell's

® Condensed Cream of Chicken Soup, parsley, and pepper. Spread over chicken and top with

Swanson

® Chicken Broth.

Cook on high for 5 hours

At approximately 3.5-4 hours of cook time roll out biscuits and cut into four strips or 8 small pieces. Add frozen vegetables, stir, and lay biscuit pieces on top.

After 5 hours remove chicken, shred and return to crockpot. Stir lightly to break up dumplings.

Enjoy!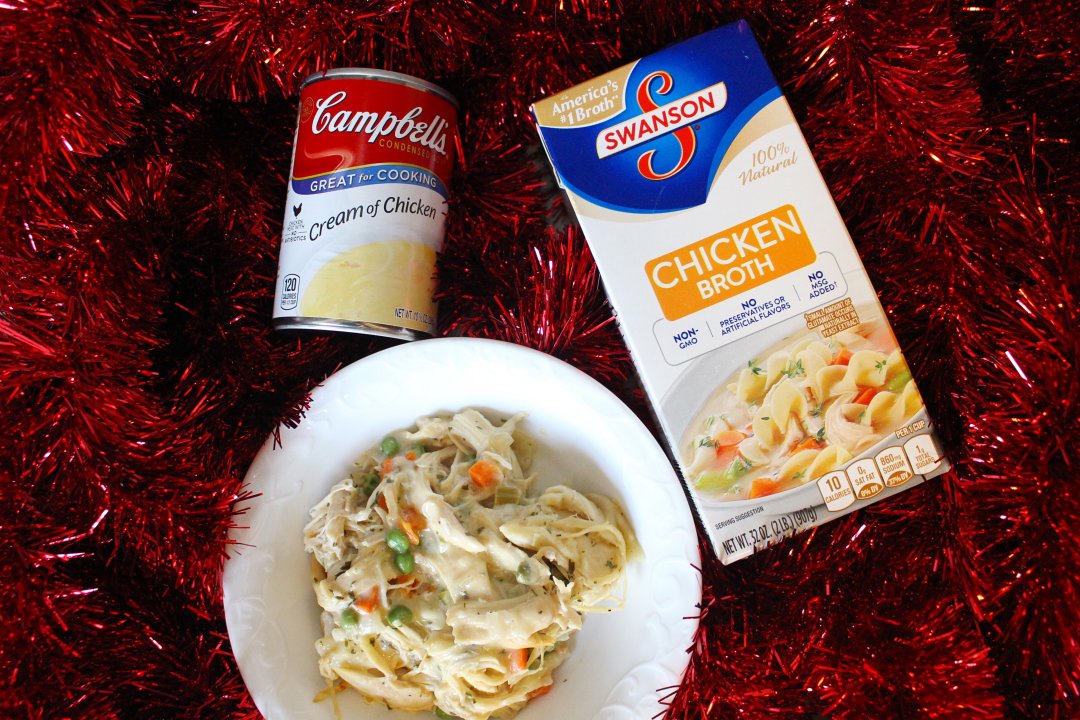 Scroll over the image above to shop Campbell's® Condensed Cream of Chicken Soup and Swanson® Broth for yourself!
My Mommom was a very special lady. She loved her family hard, especially her grandchildren. I think it's only fitting that I make chicken & dumplings in her honor using Campbell's® Condensed Cream of Chicken Soup and Swanson® Broth since they were staples in her kitchen for many years. I know she'd be proud and I'm so thankful for the opportunity to remember and honor her through loved ones and good food!
What is your favorite recipe to make and enjoy with your family around the holidays? Check out more Campbell's® Cream Soups and Swanson® Broth holiday recipes and inspiration HERE.
---
If you're drooling from the photos above (I don't blame you one bit!), Sam's Club will be hosting their annual Holiday Taste of Sam's event, a huge in-club demo sampling occasion on December 21st and 22nd. The Swanson® Chicken Broth will be paired with Idahoan Mashed Potatoes and you can take advantage of the temporary price reduction of $1.50 off Campbell's® Condensed Cream of Chicken Soup, and Campbell's® Condensed Cream of Mushroom Soup while you're there!